Discover more from Current Revolt
The Texas Newspaper of Record
Over 23,000 subscribers
American Airlines Targeted by Anti-Woke Street Artist
AA has been under fire recently for wasting funds on ESG and DEI policies
American Airlines was targeted by conservative street artist, Sabo, during this weekend's Jake Paul vs. Nate Diaz fight hosted at American Airlines Center.
American Airlines (AA) has been under fire recently for their DEI policies and ESG investing, which have highly impacted its pilots and customers.
Former AA CEO Doug Parker recently commented that the airline "absolutely" applies DEI guidelines to its pilot hires, which racially discriminates hiring based on skin color in order to meet diversity quotas. This has left many pilots and customers concerned.
"Illegal discrimination is evil in all situations, and equity-based discrimination is still just discrimination. In picking pilots, it's straight up insane," Scott Shepard, director of the Free Enterprise Project at NCPPR, said of the incident at the time. "In its eagerness to stay woke despite ever-growing evidence that woke leads to failure, American Airlines is endangering lives and trashing its reputation."

Peck concurred, adding that competence should take precedence over other qualities.

"It's bigoted to think otherwise. But when it comes to pilots, it's not just nondiscrimination, morality and productivity on the line; it's passengers' lives," Peck added, according to an NCPPR press release on the incident.
AA is also facing a class action lawsuit from their pilots in relation to their 401(k) plan, where the plan has underperformed due to the airline choosing to invest and recommend funds that meet ESG goals, causing financial harm.
The lawsuit highlights what Spence says are examples of ESG policy, including sustainability efforts, LGBTQ+ interests and racial and gender diversity, as well as executive pay and diversity in leadership.

If allowed to proceed to trial, Spence will call on the court to rule that American Airlines has breached its fiduciary duties under ERISA, and demand that the airline "make good to the Plan all losses that the Plan incurred as a result of their breaches of fiduciary duties, and to restore the Plan to the position it would have been in but for this unlawful conduct," and further demands injunctive relief to prevent further violations and mismanagement of the plan.
These policies have led to frustrations among pilots and passengers, including street artist Sabo, who had his works well displayed over the weekend.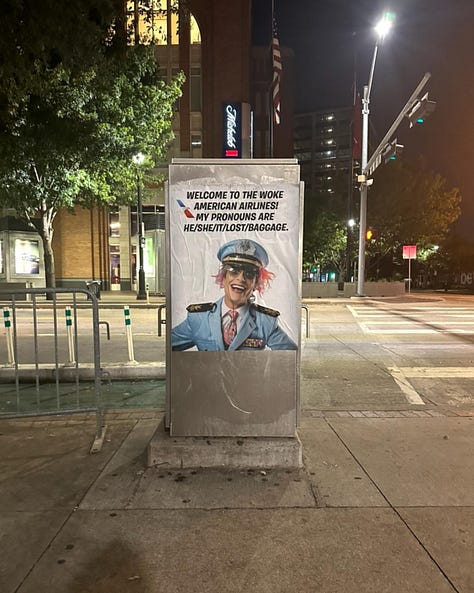 The art mocks AA's weirdo leftist culture by putting pronouns in front of Jake Paul and Nate Diaz during American Airlines Center's highlighted fight this last weekend.
It also shows a very androgynous looking pilot dressed in pansexual colors and bright hair.
Sabo is well-known for his political art, which previously included Wendy Davis and Ted Cruz.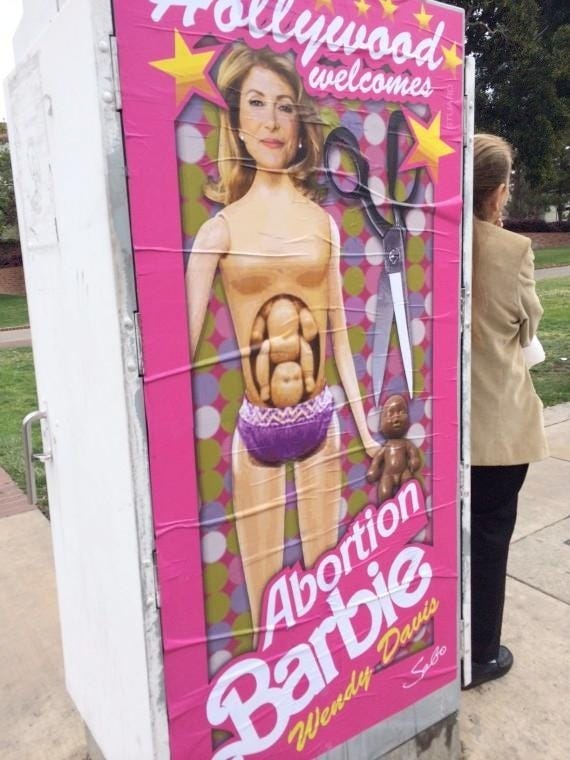 Woke Texas companies, like American Airlines, continue to benefit from Texas Republican fiscal policies despite pushing leftist ideologies on their customers and staff. In 2016, the Tarrant County Commissioners approved a tax abatement of 70 percent on AA's taxable real property. The value of the abatement over its 10-year life was estimated at just over $2 million.
We hope to see our Texas Republican politicians begin to punish these woke companies by hitting them where it hurts — their bank accounts.
Love our news stories? Subscribe below to support us =)