Discover more from Current Revolt
The Texas Newspaper of Record
Over 23,000 subscribers
BREAKING: JACKIE SCHLEGEL FIRED FROM TEXANS FOR VACC. CHOICE
Jackie Schlegel has been removed from her position at Texans for Vaccine Choice. TFVC subsequently filed a Temporary Restraining Order against Schlegel and others in what's starting to look like a hostile takeover of TFVC.
We've got a copy of the TRO (Temporary Restraining Order) filed by Texans for Vaccine Choice against Jackie Schlegel below. If you don't have time to read all 26 pages of this court document, we have a brief synopsis of what the TRO is alleging.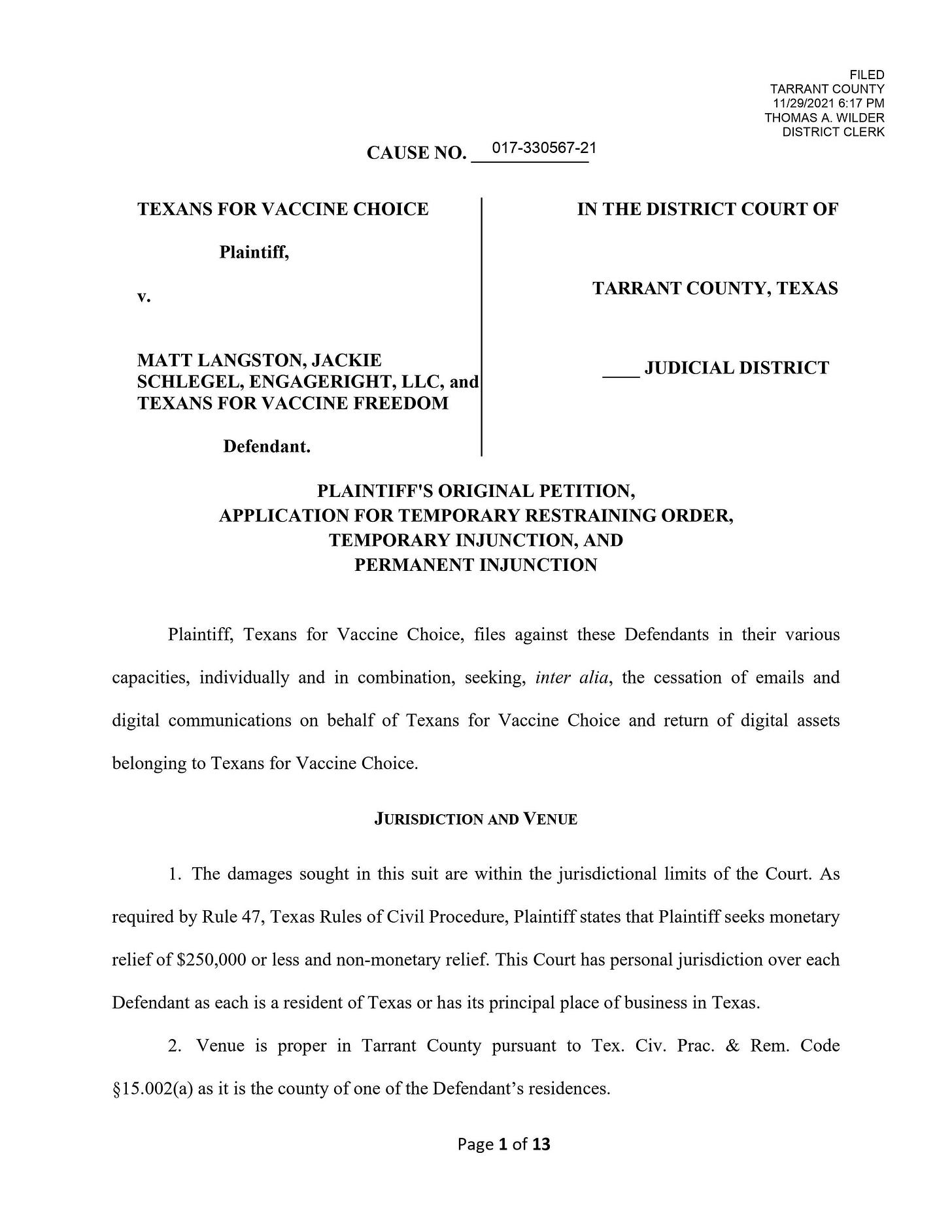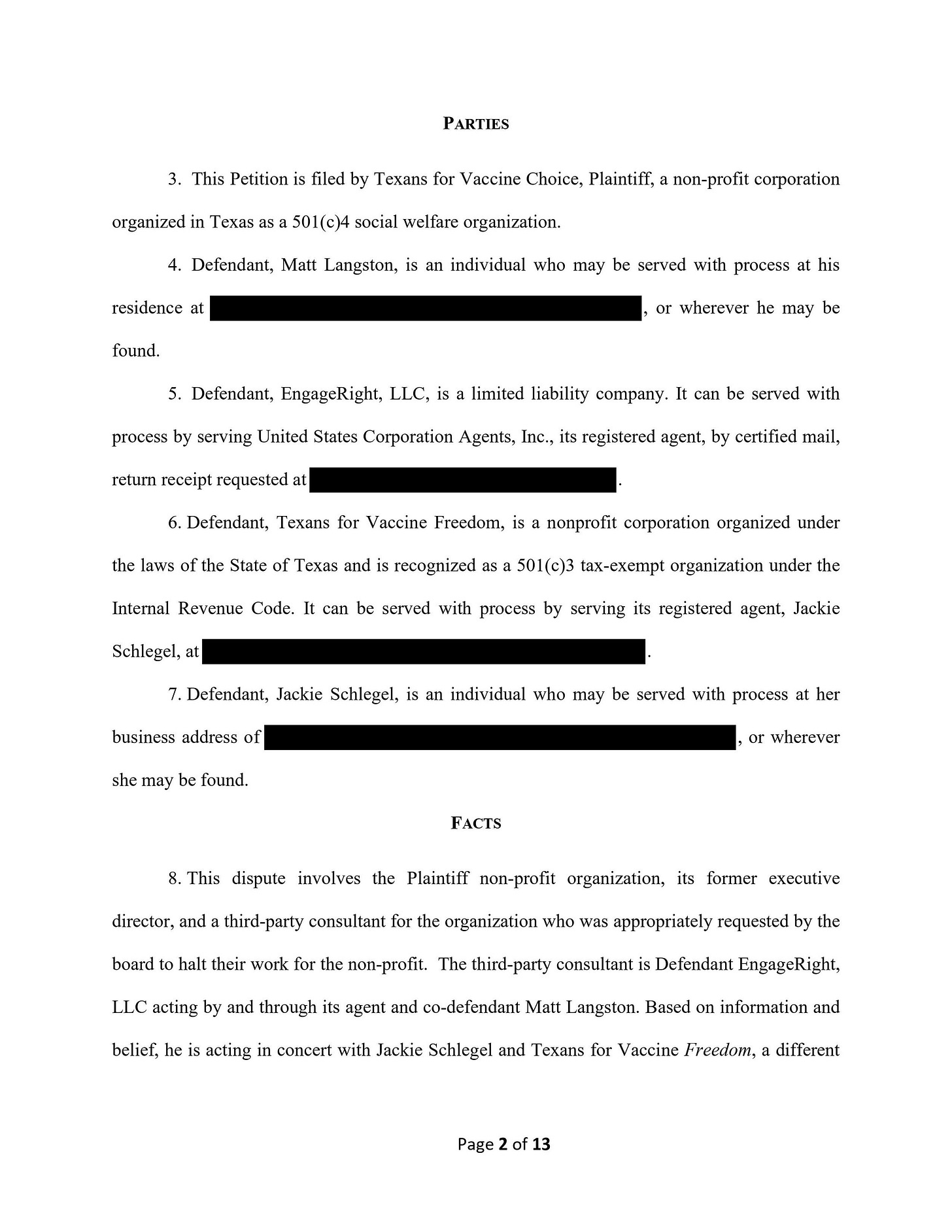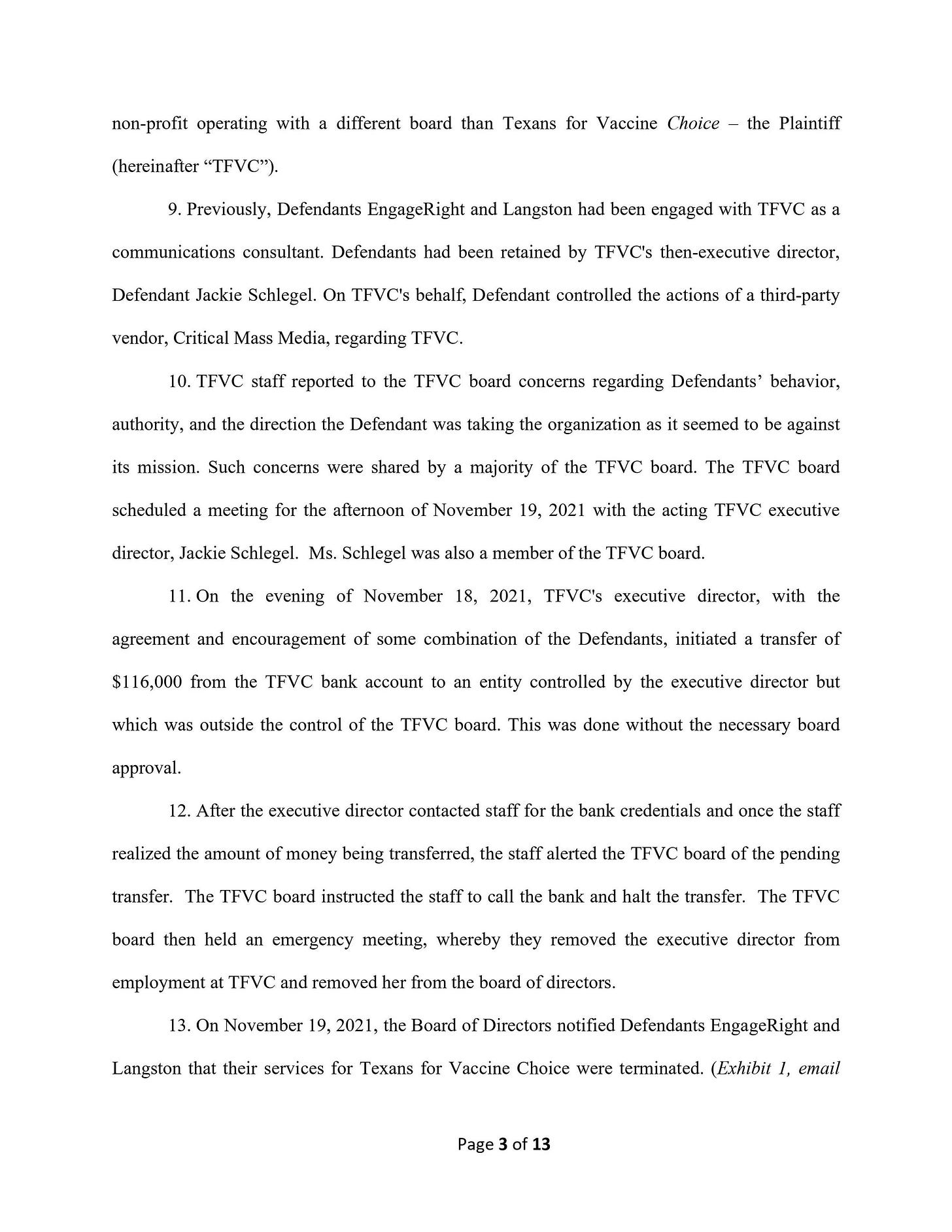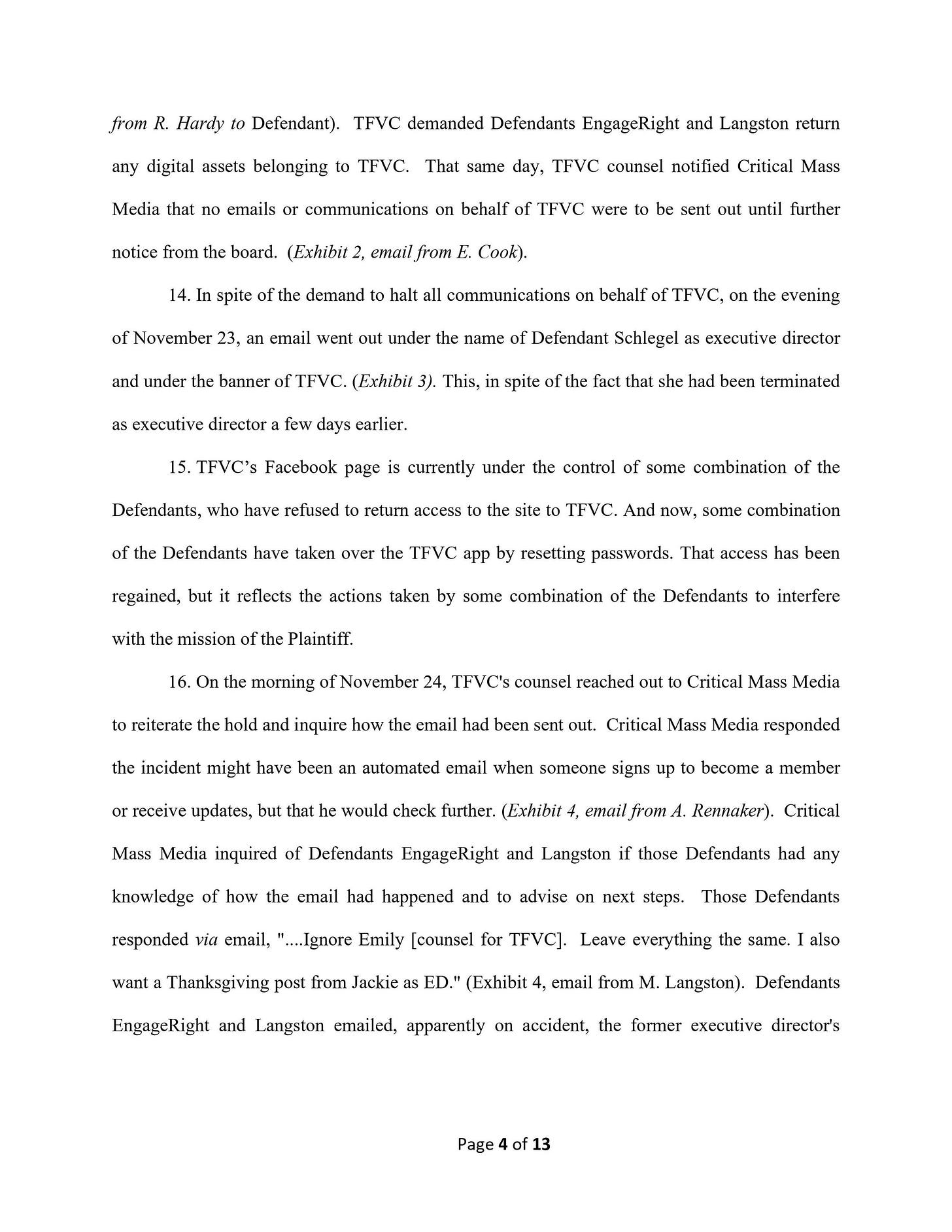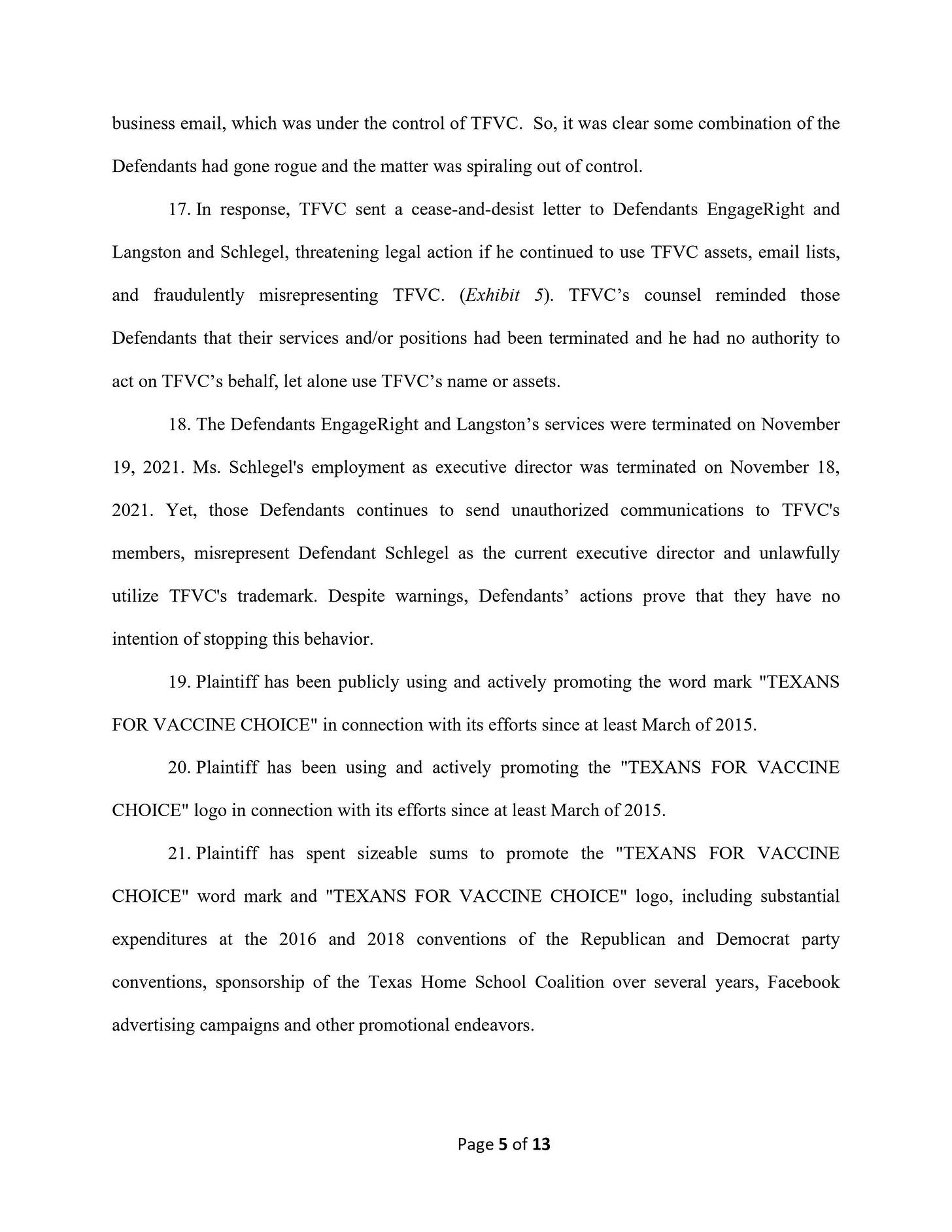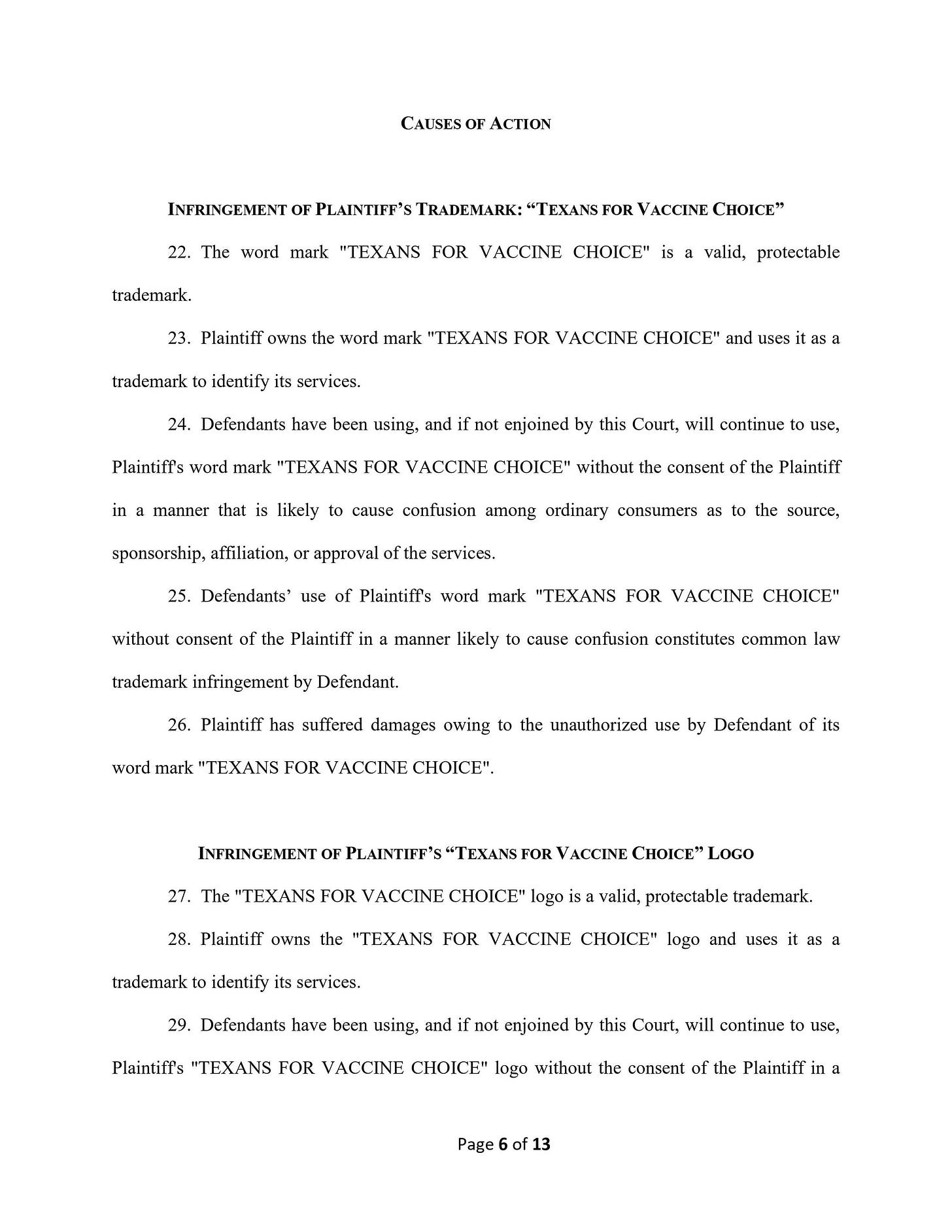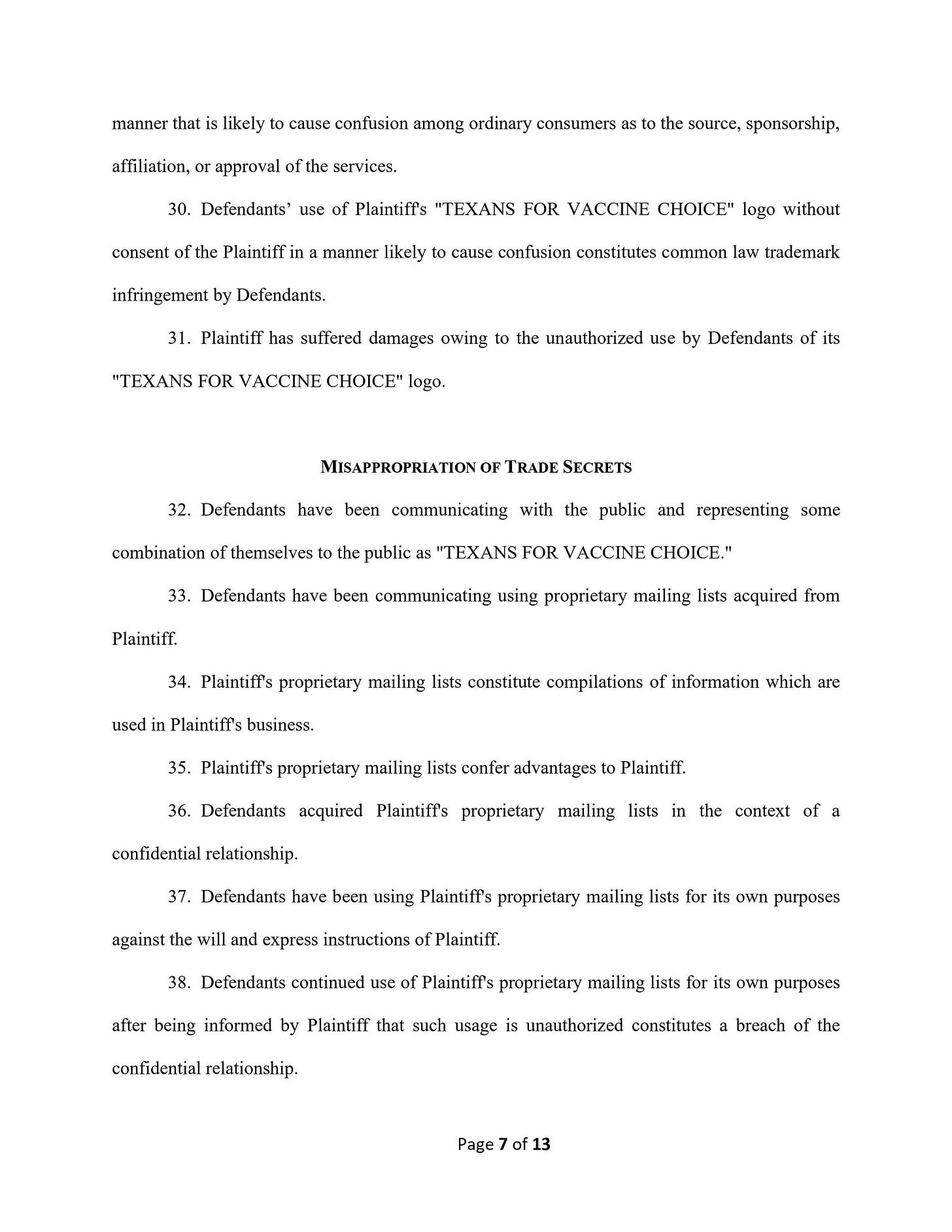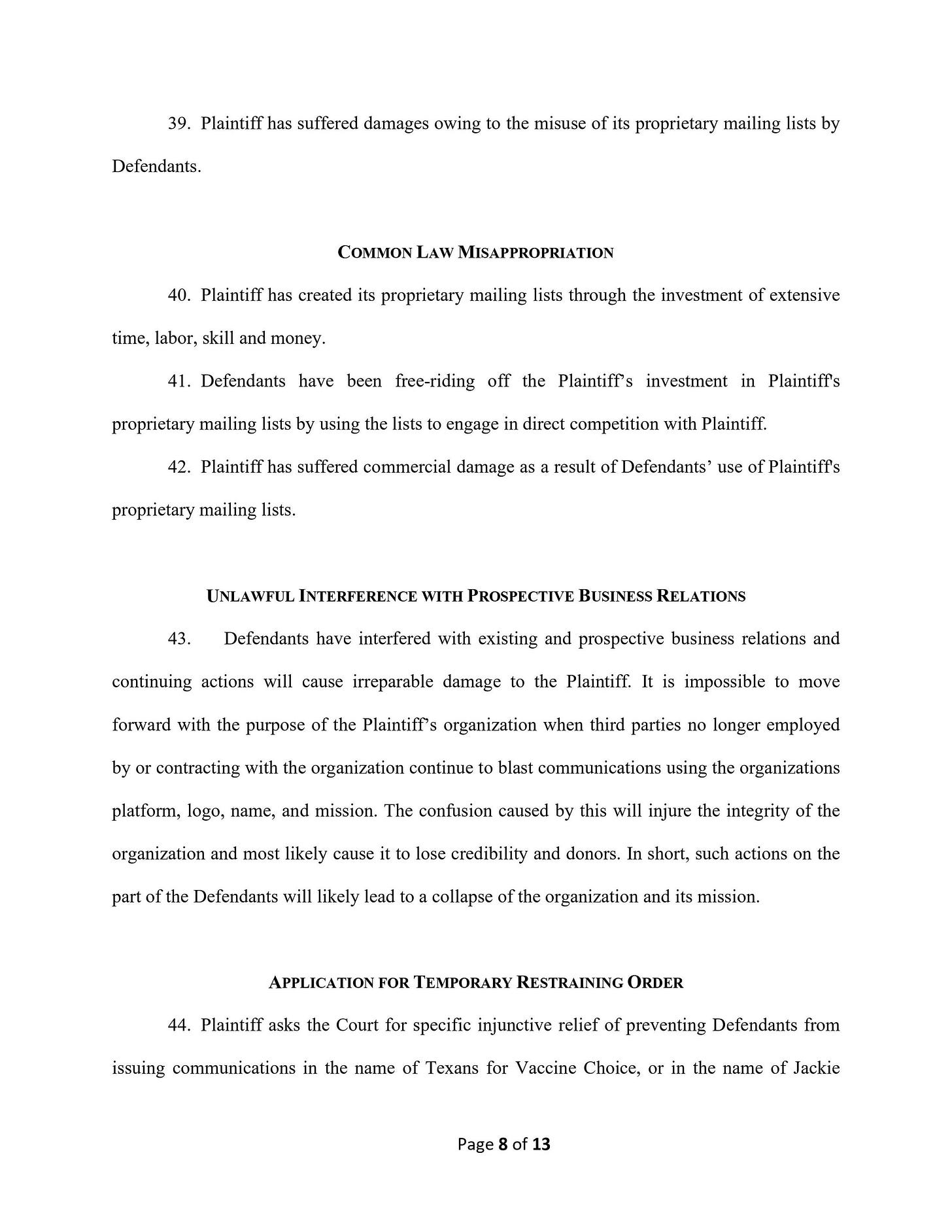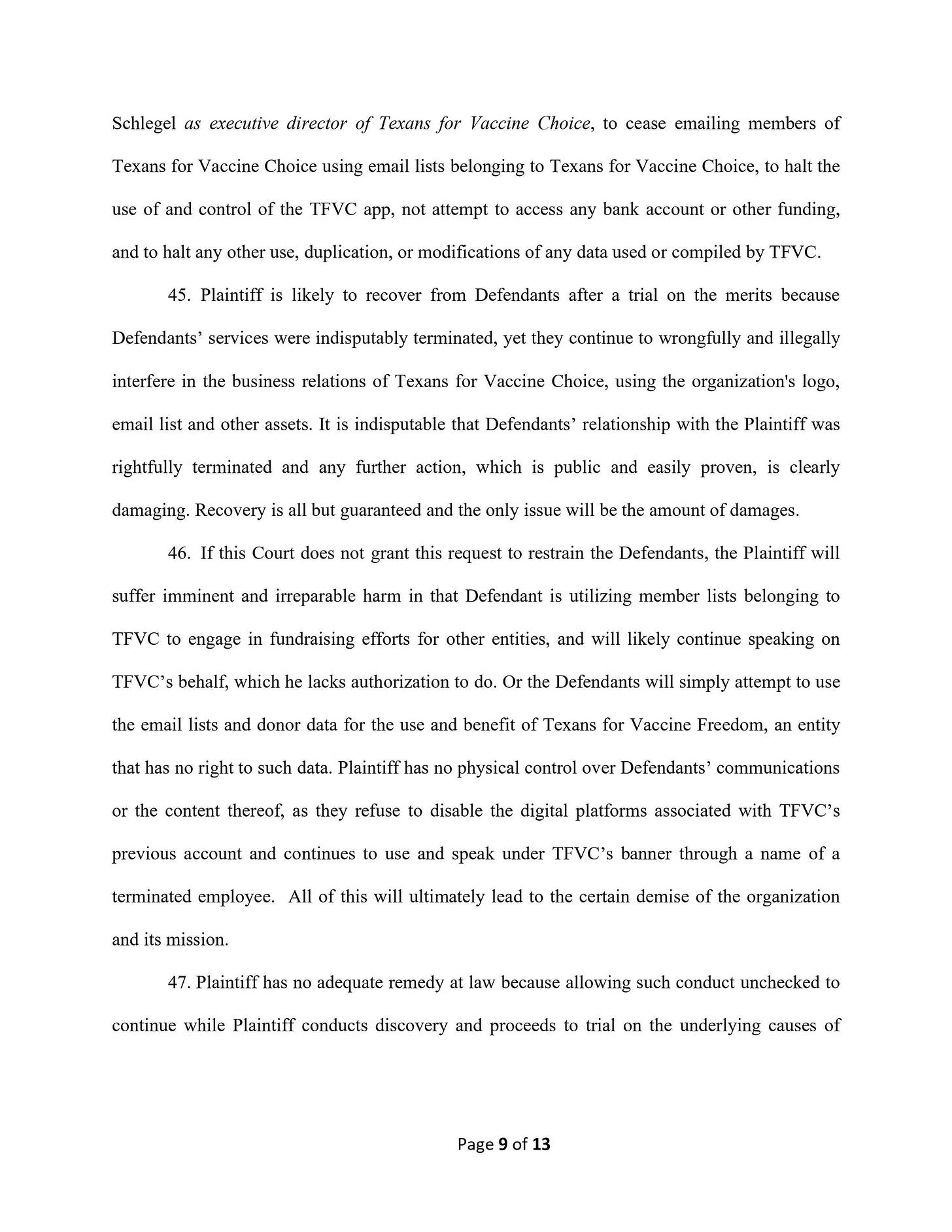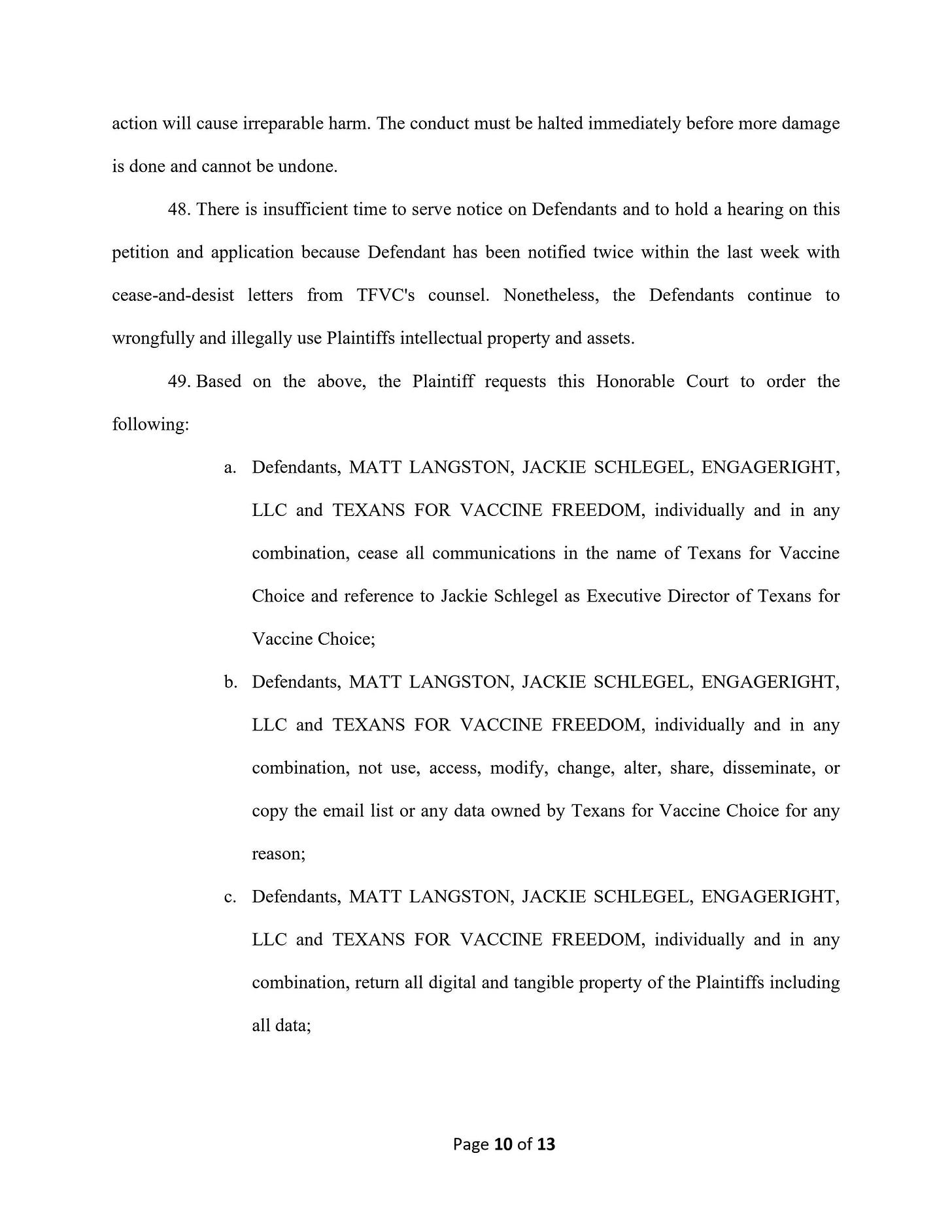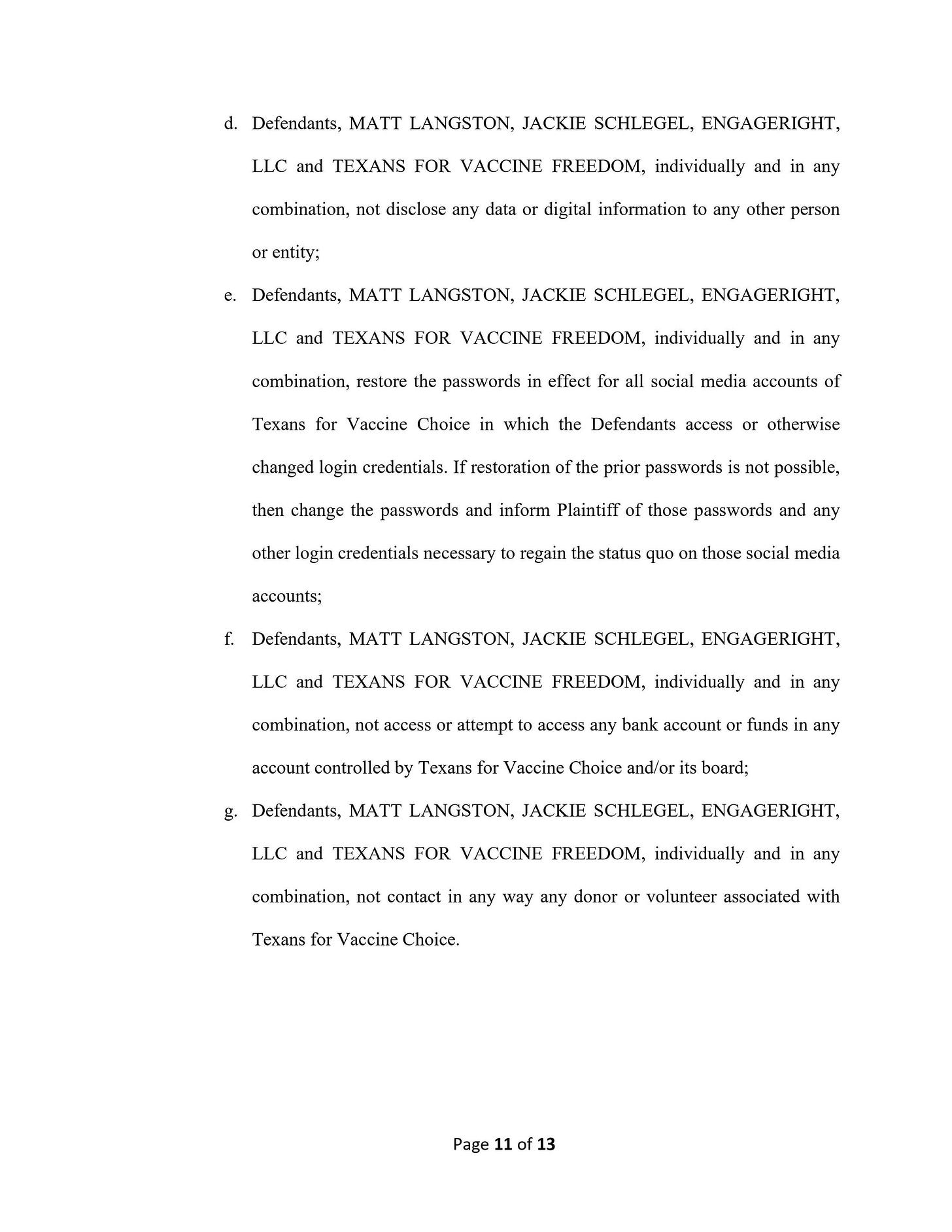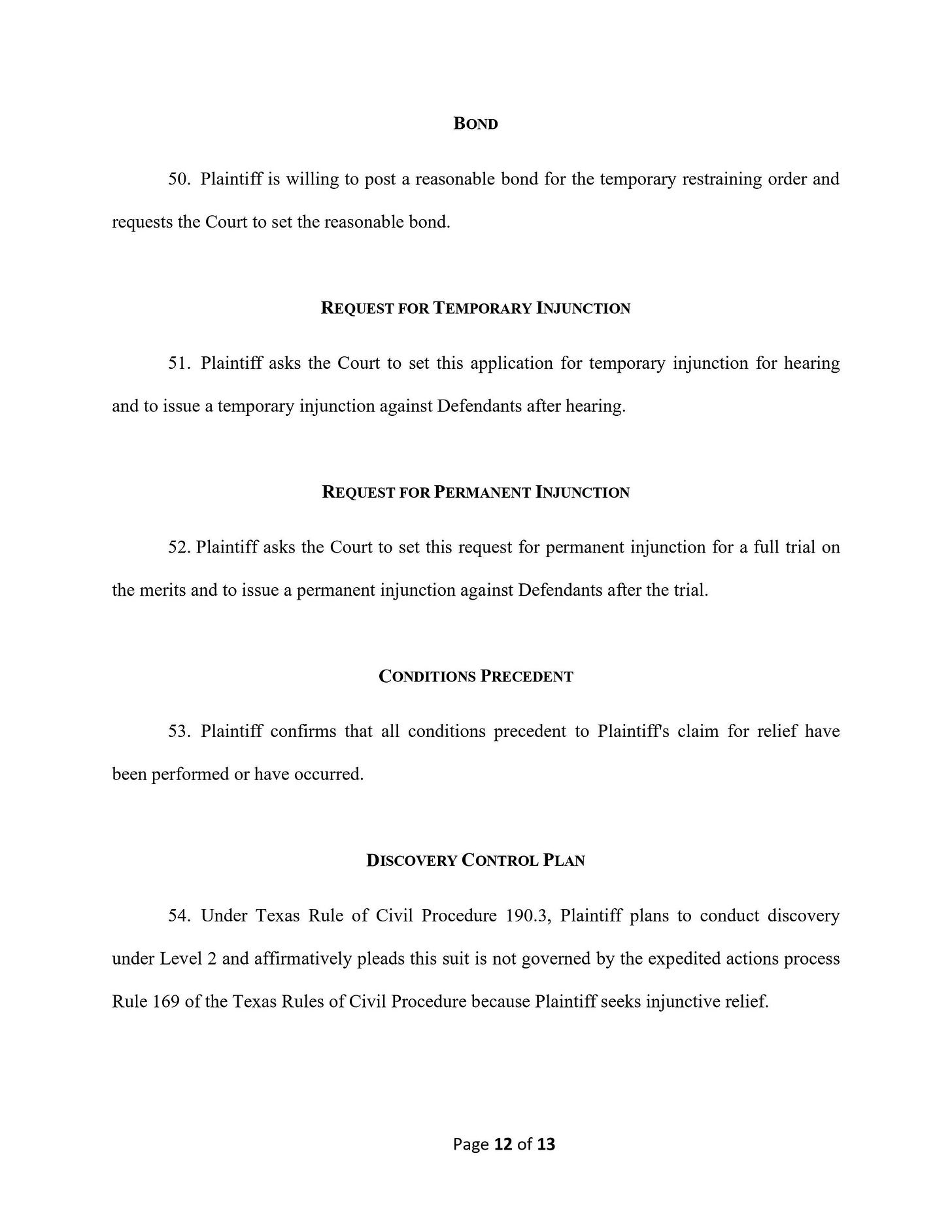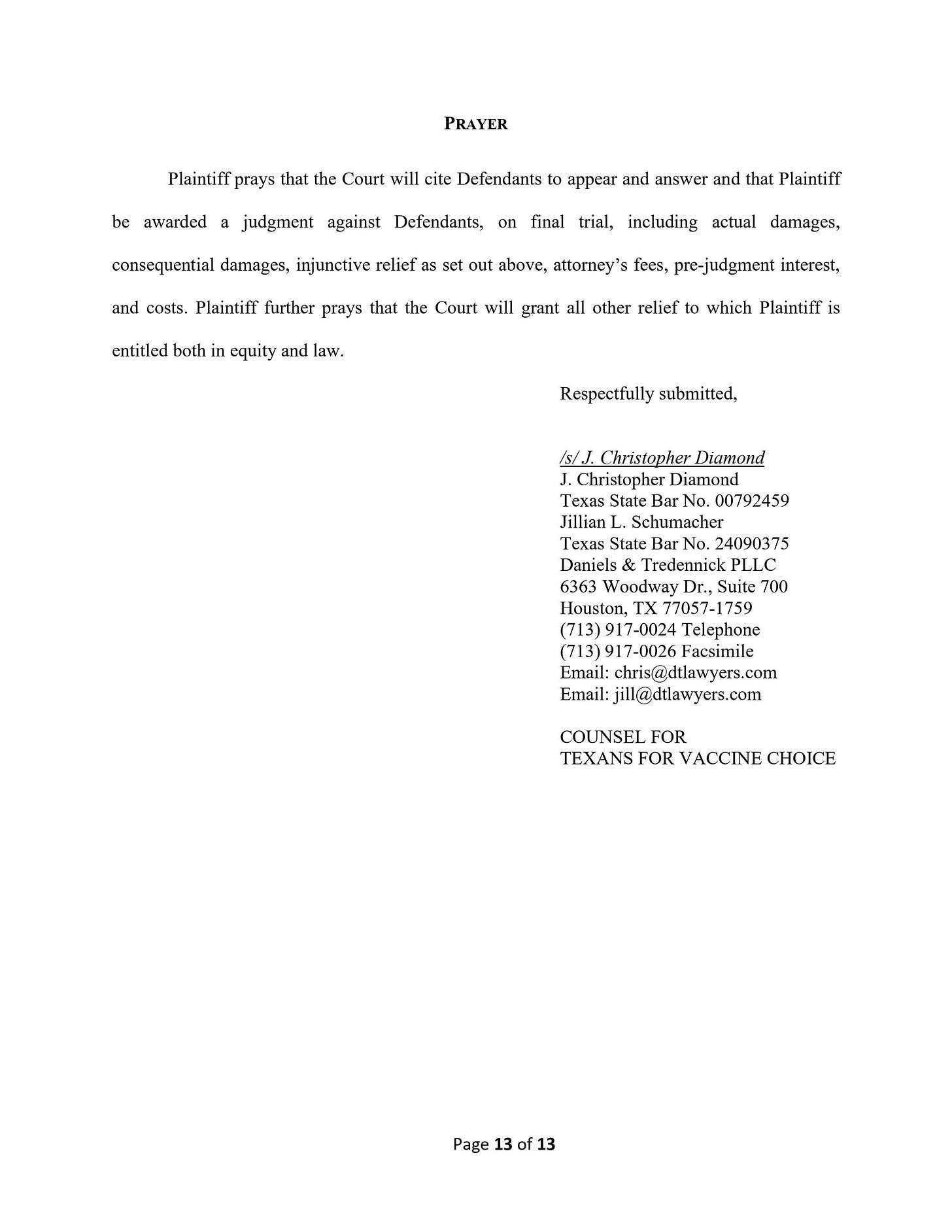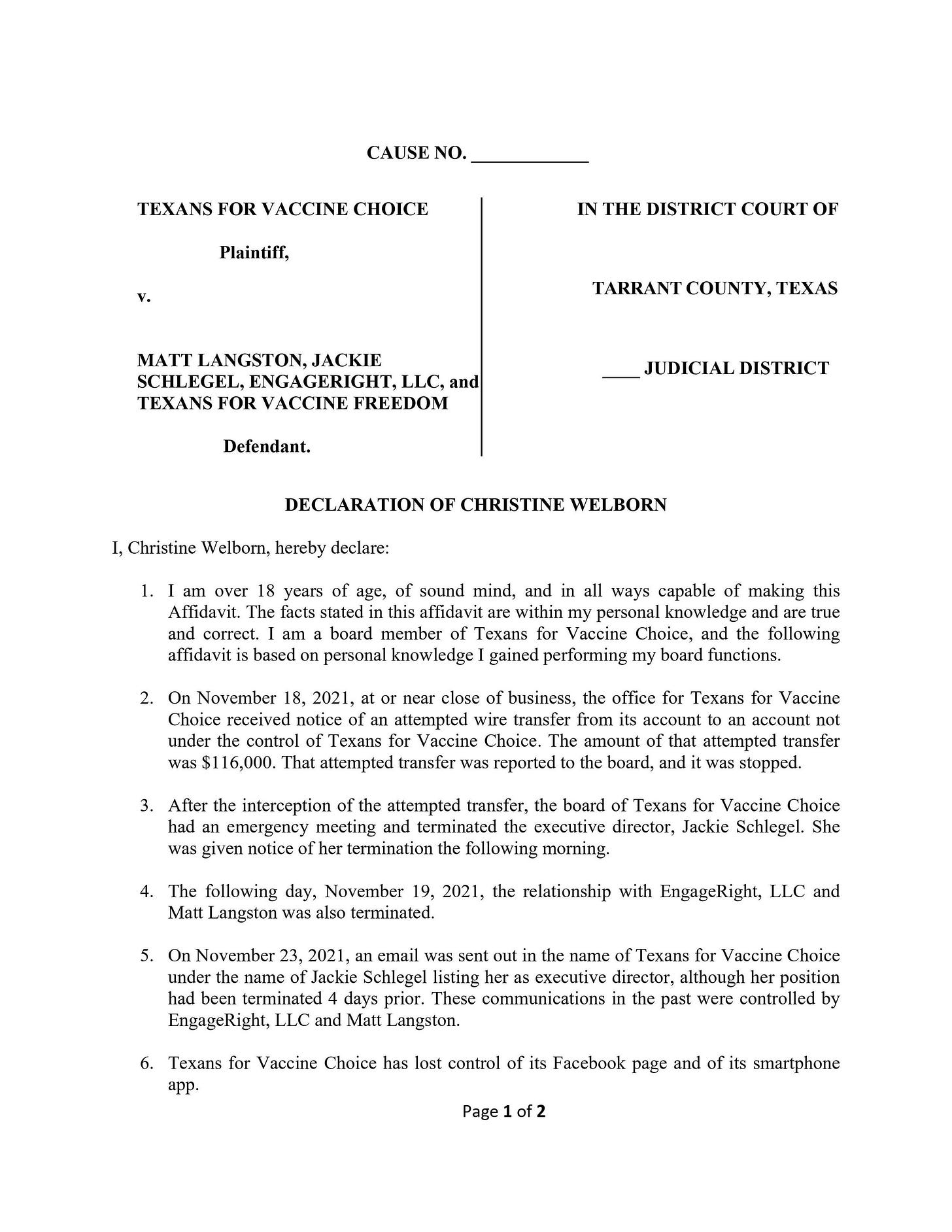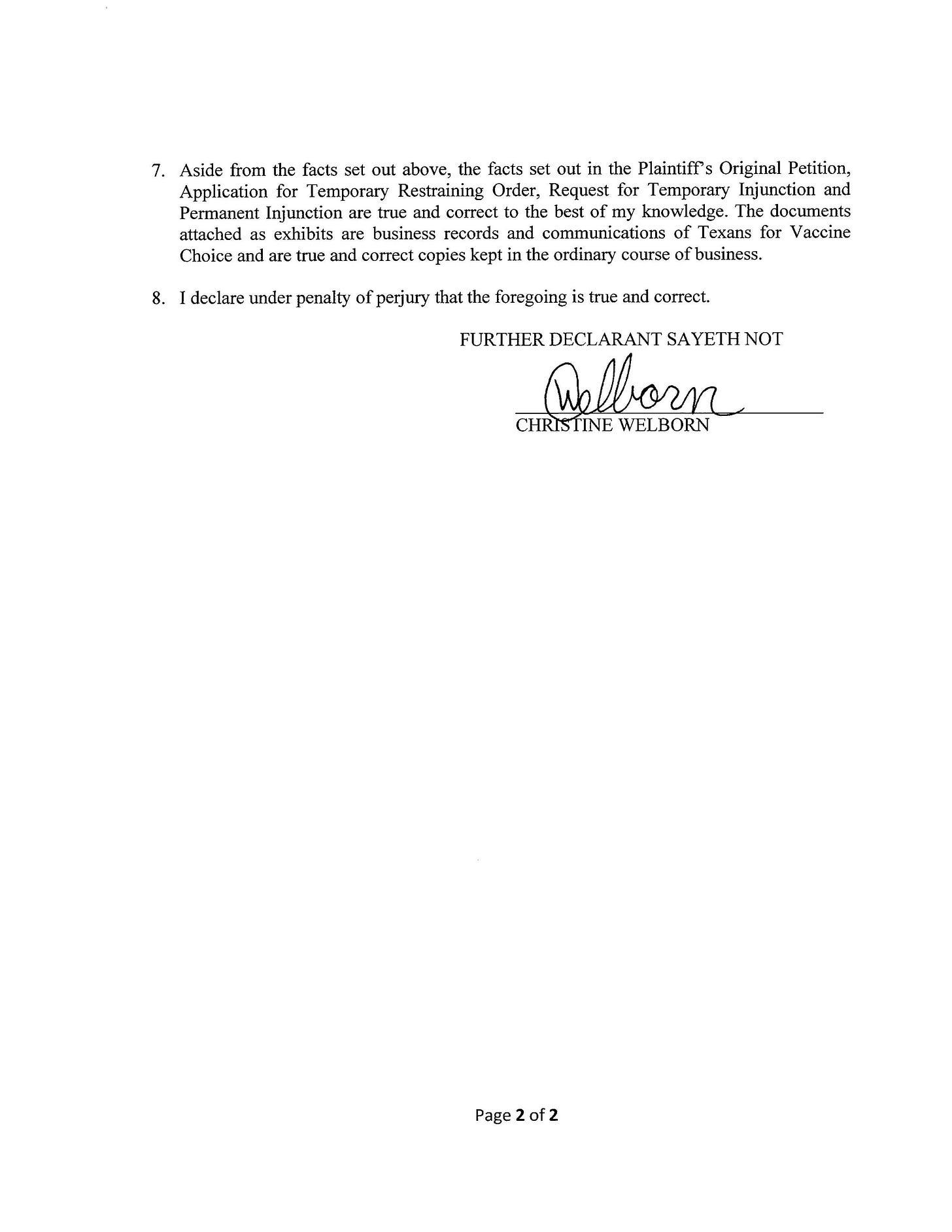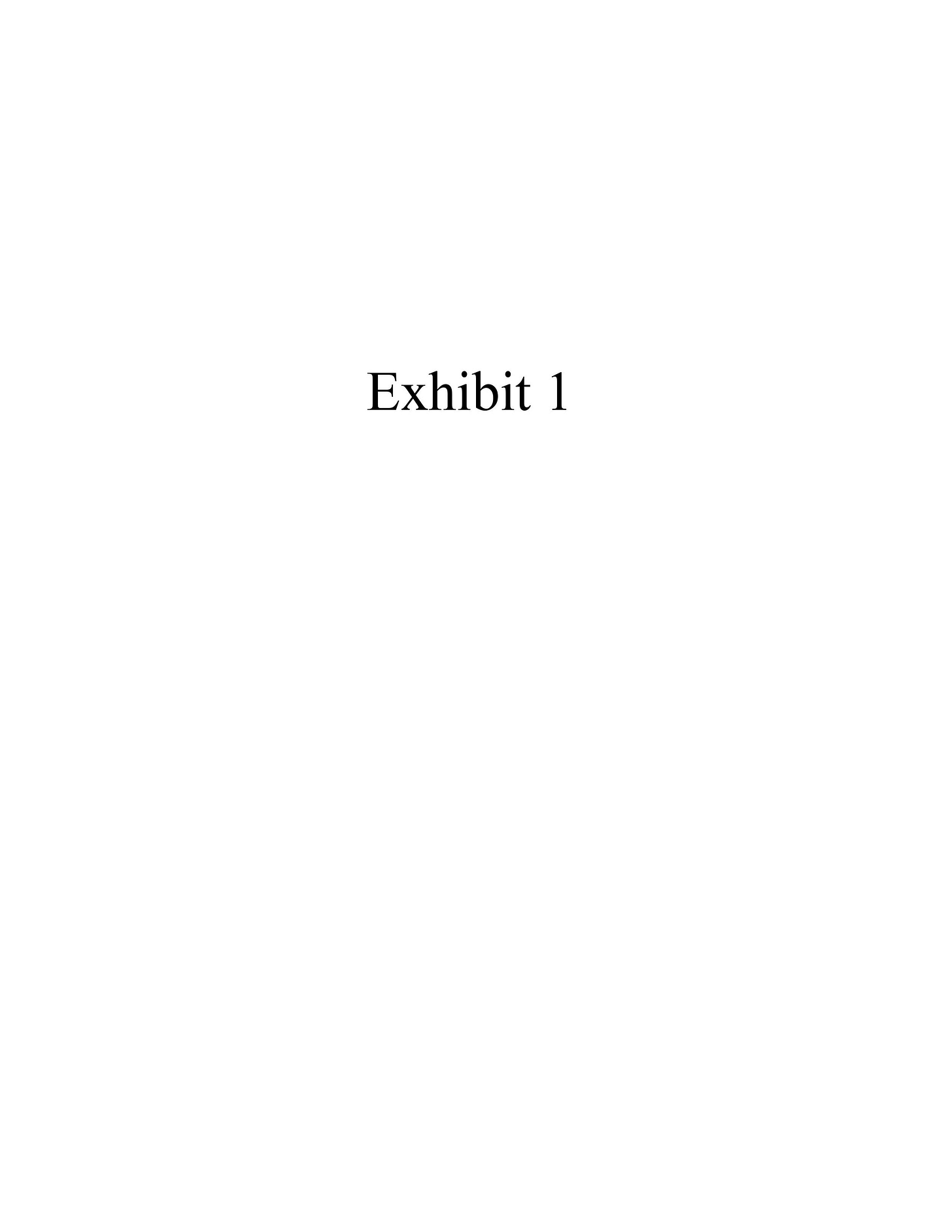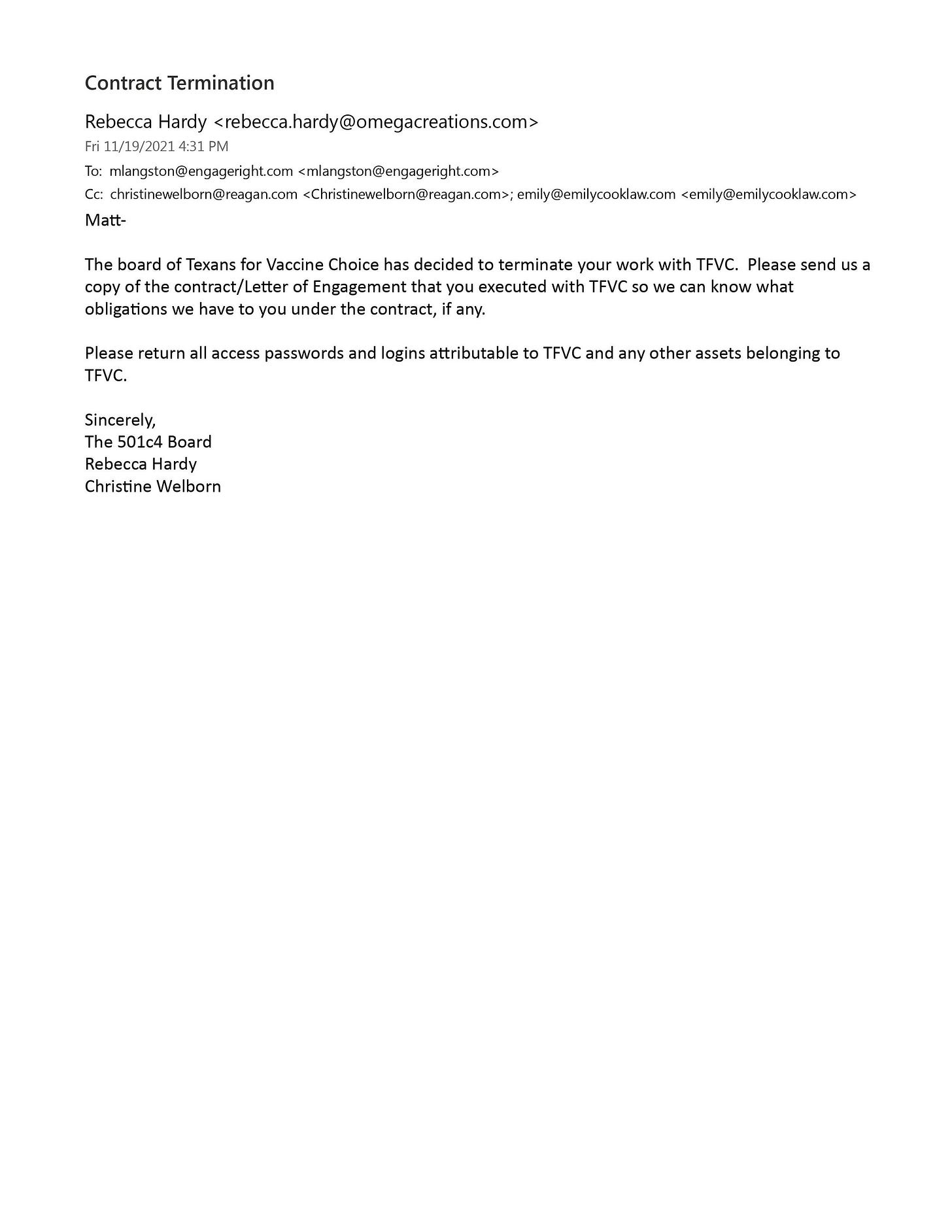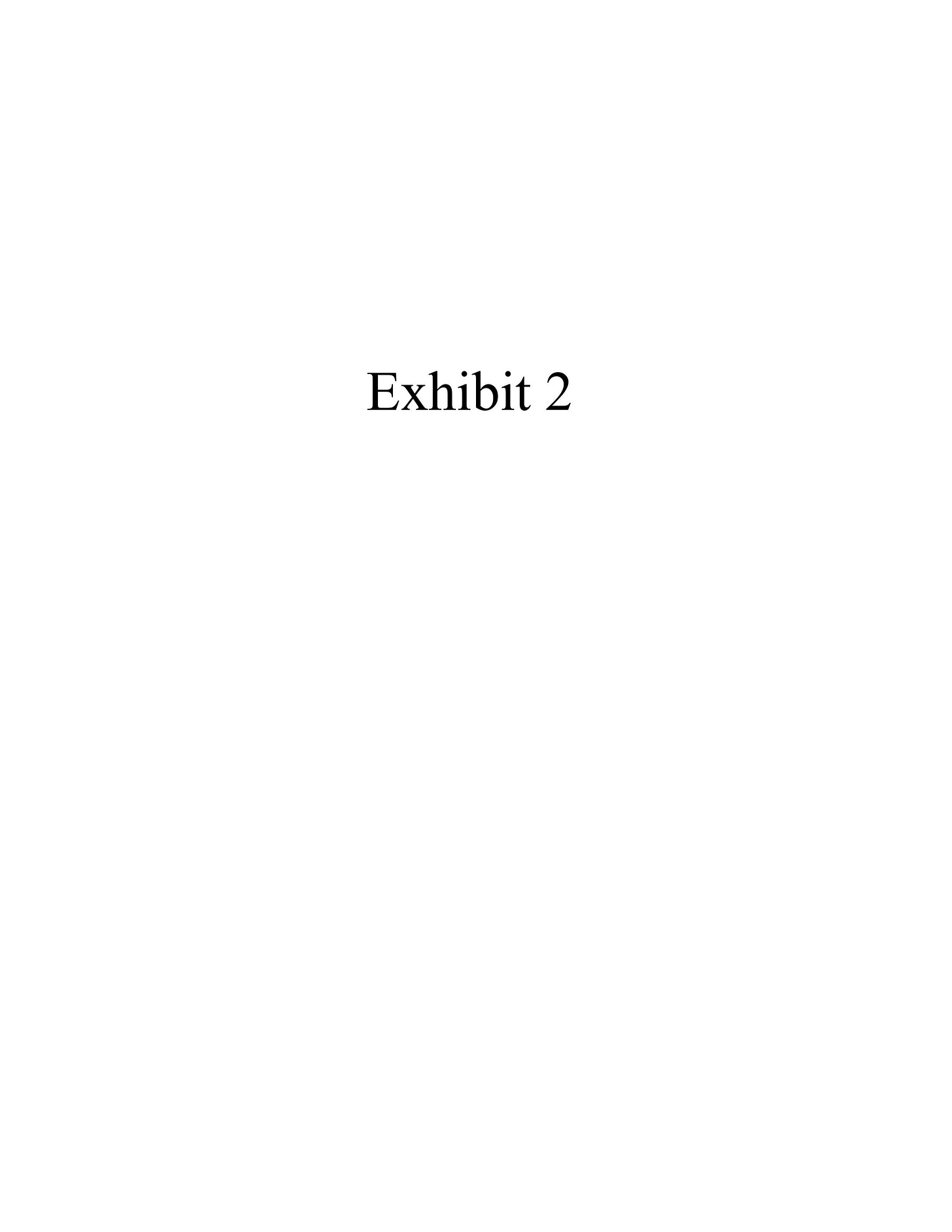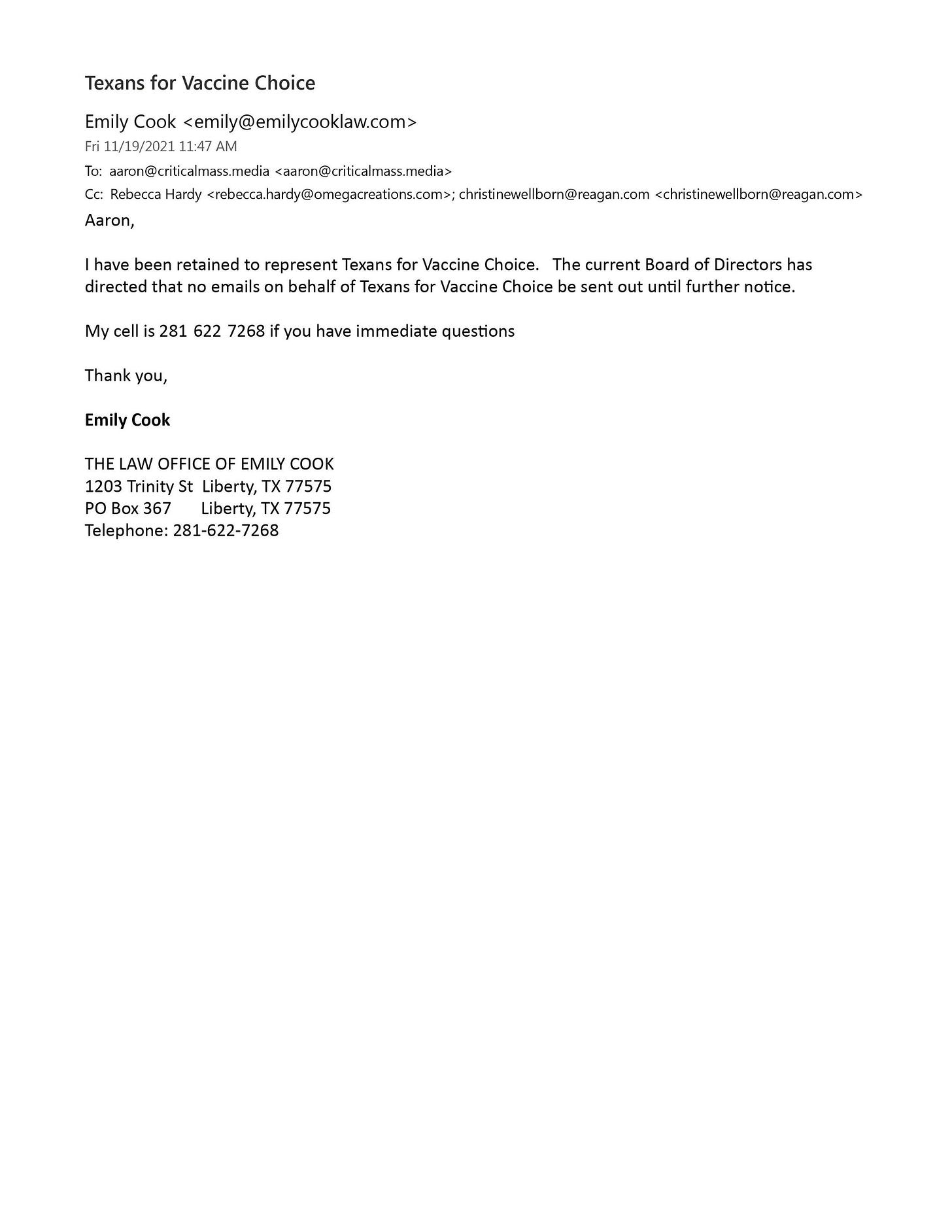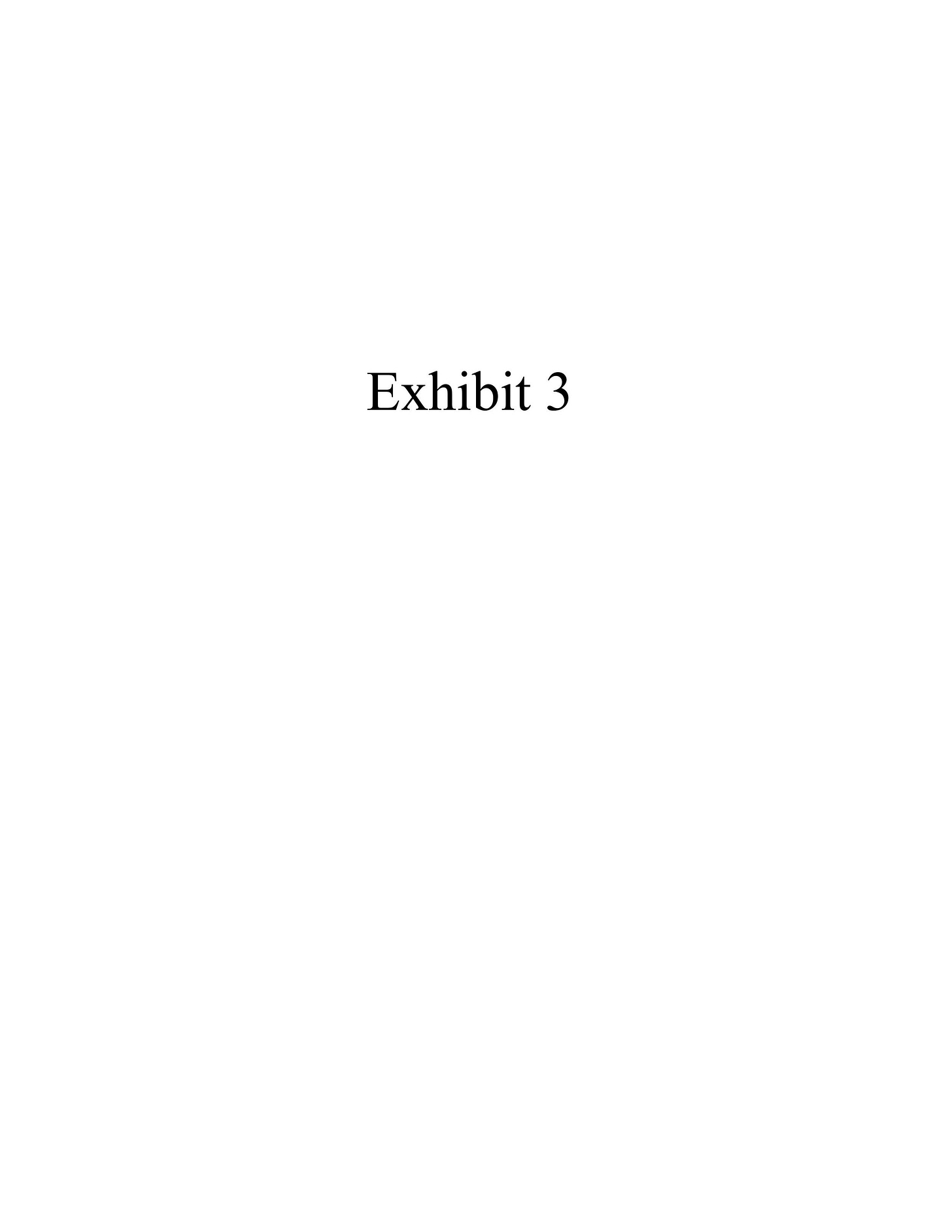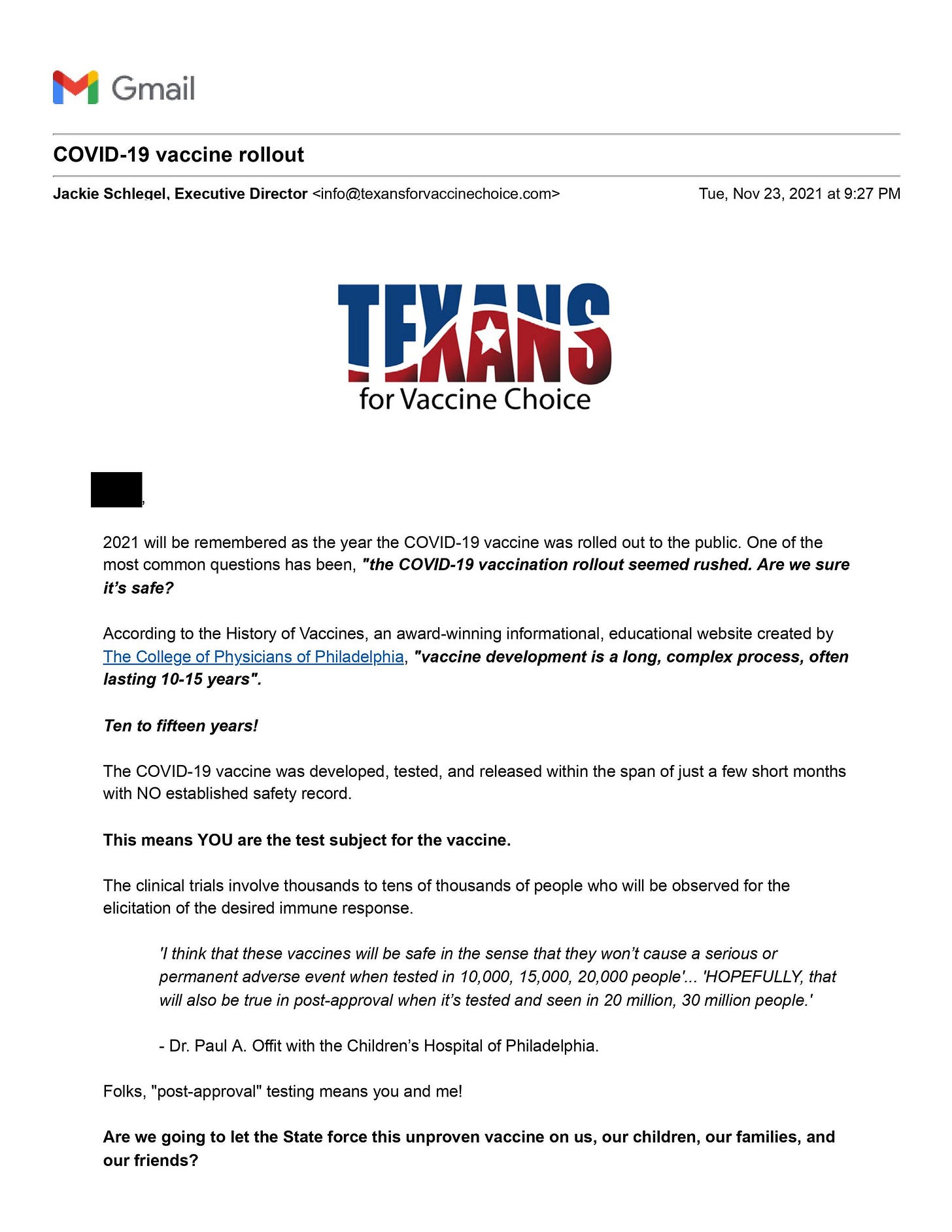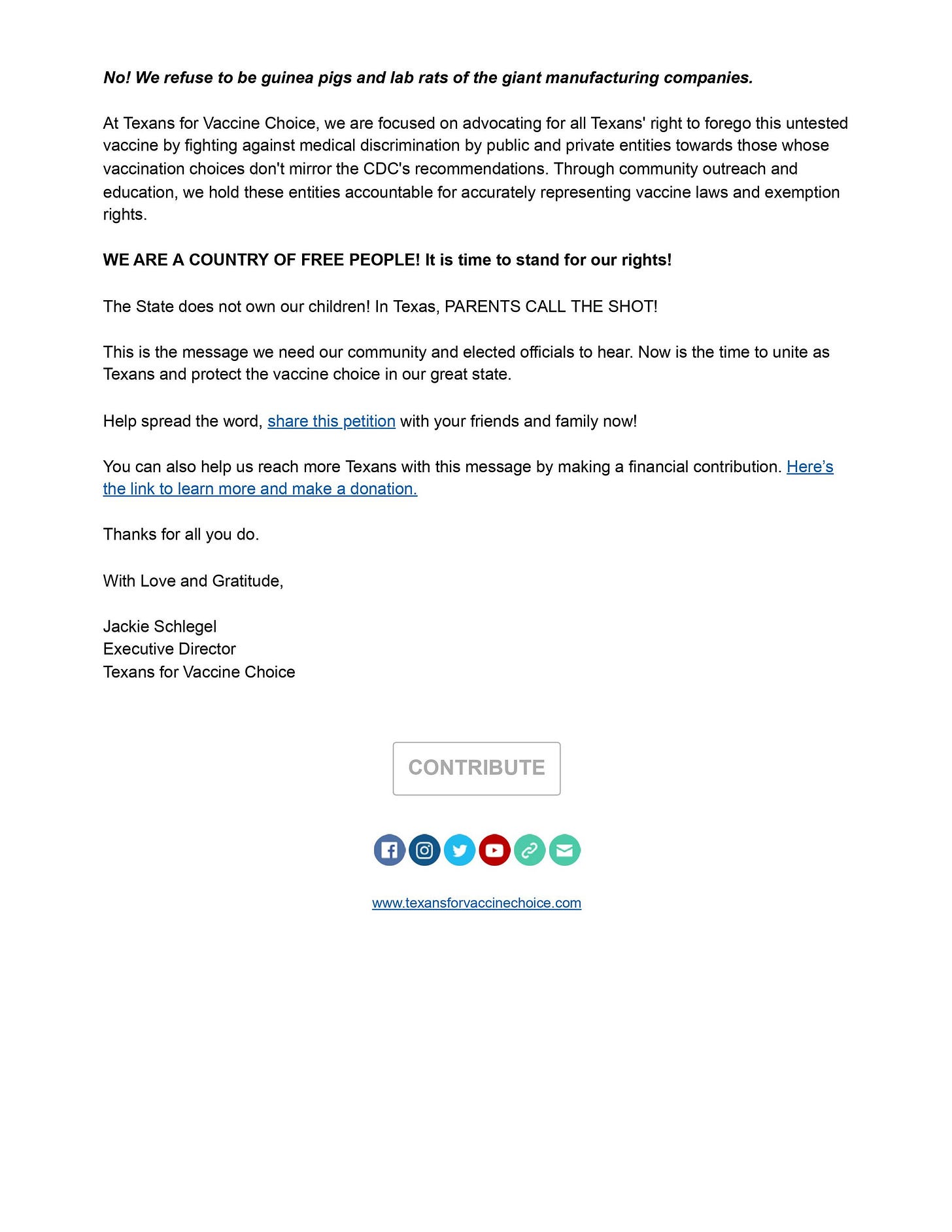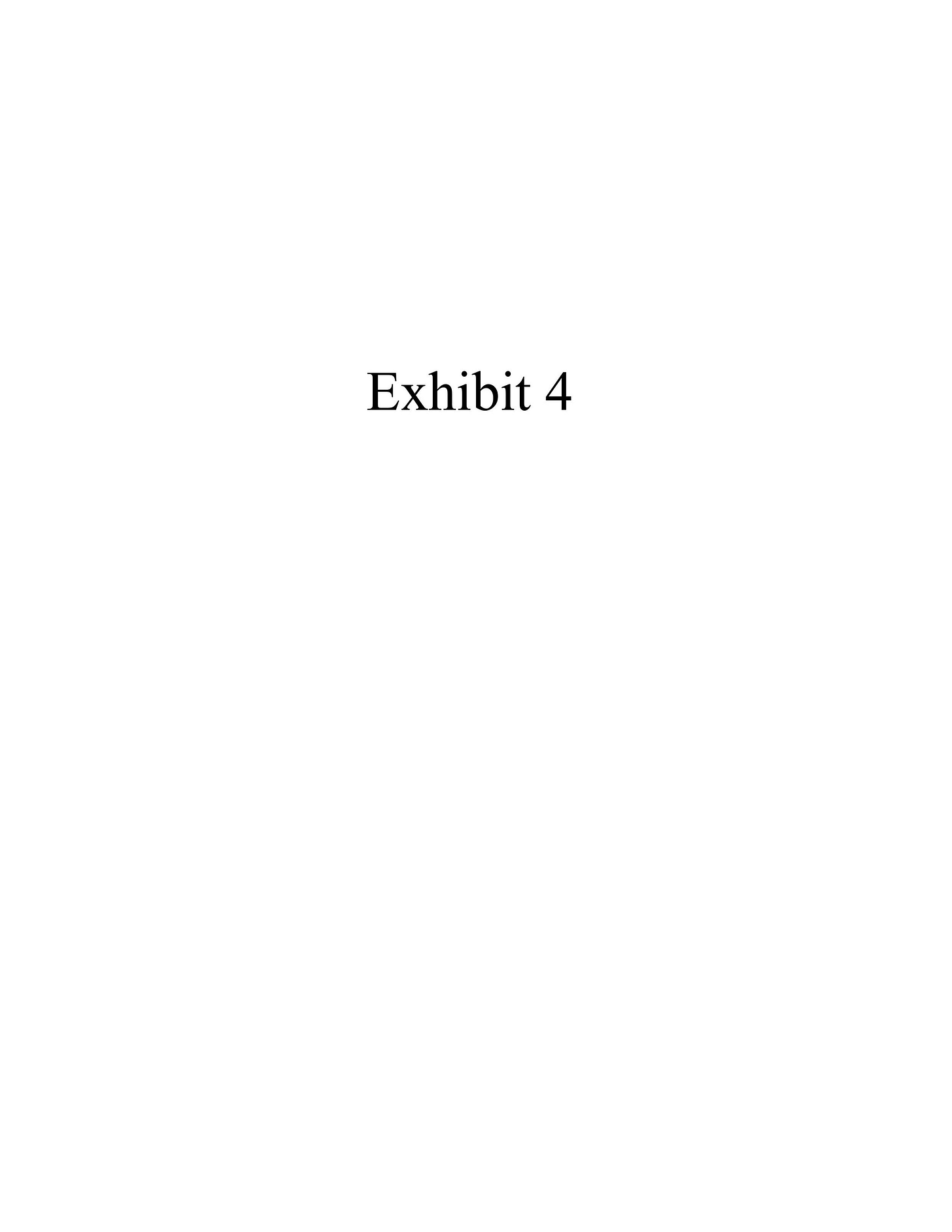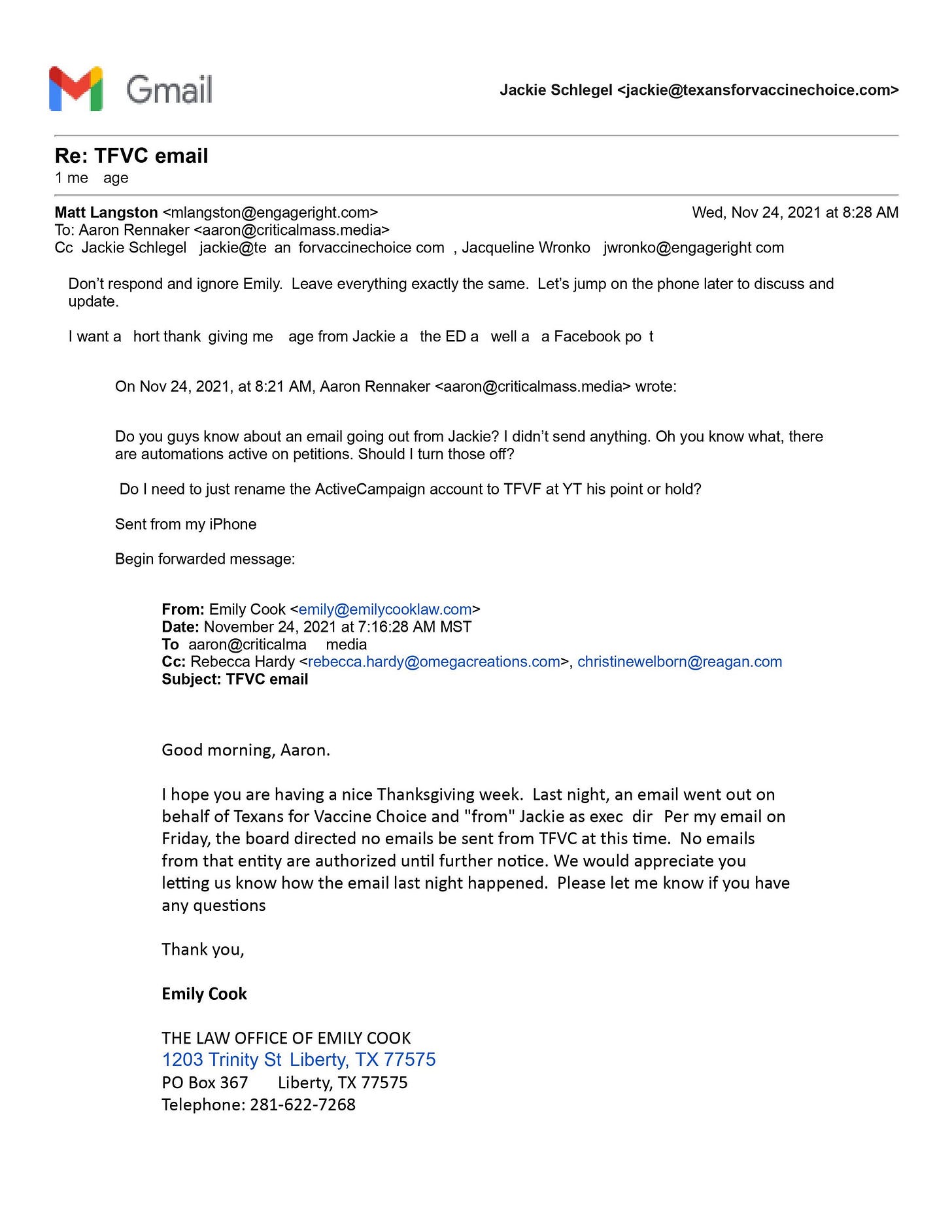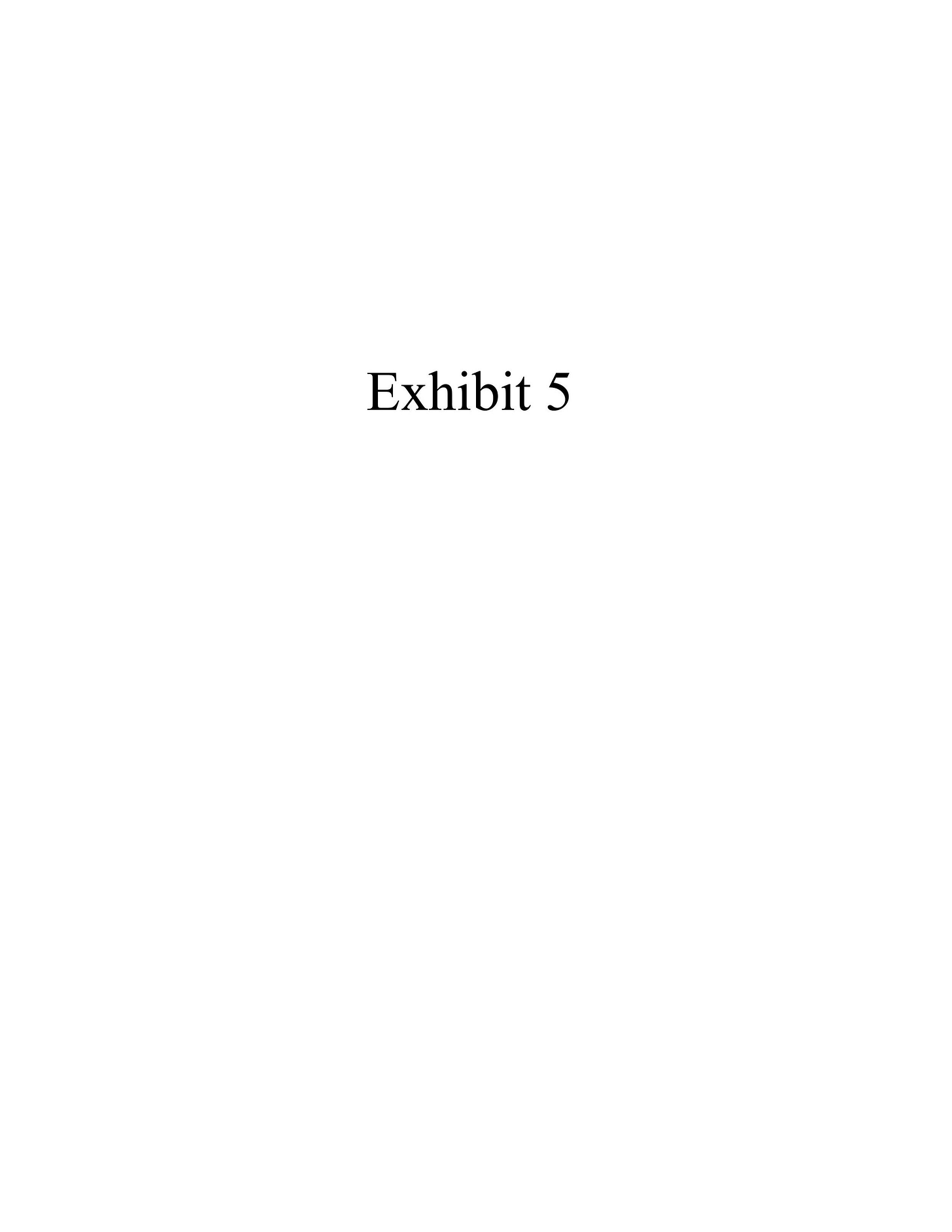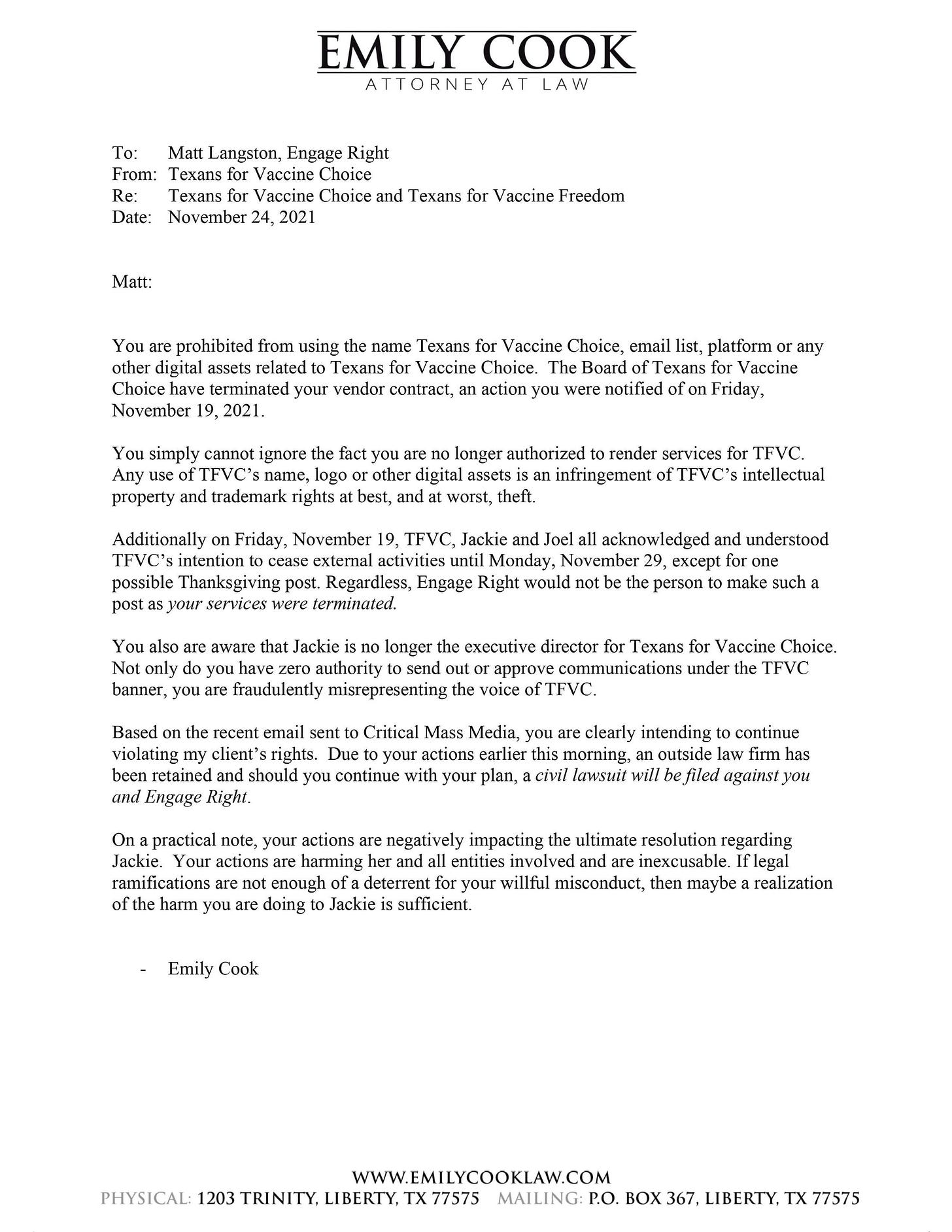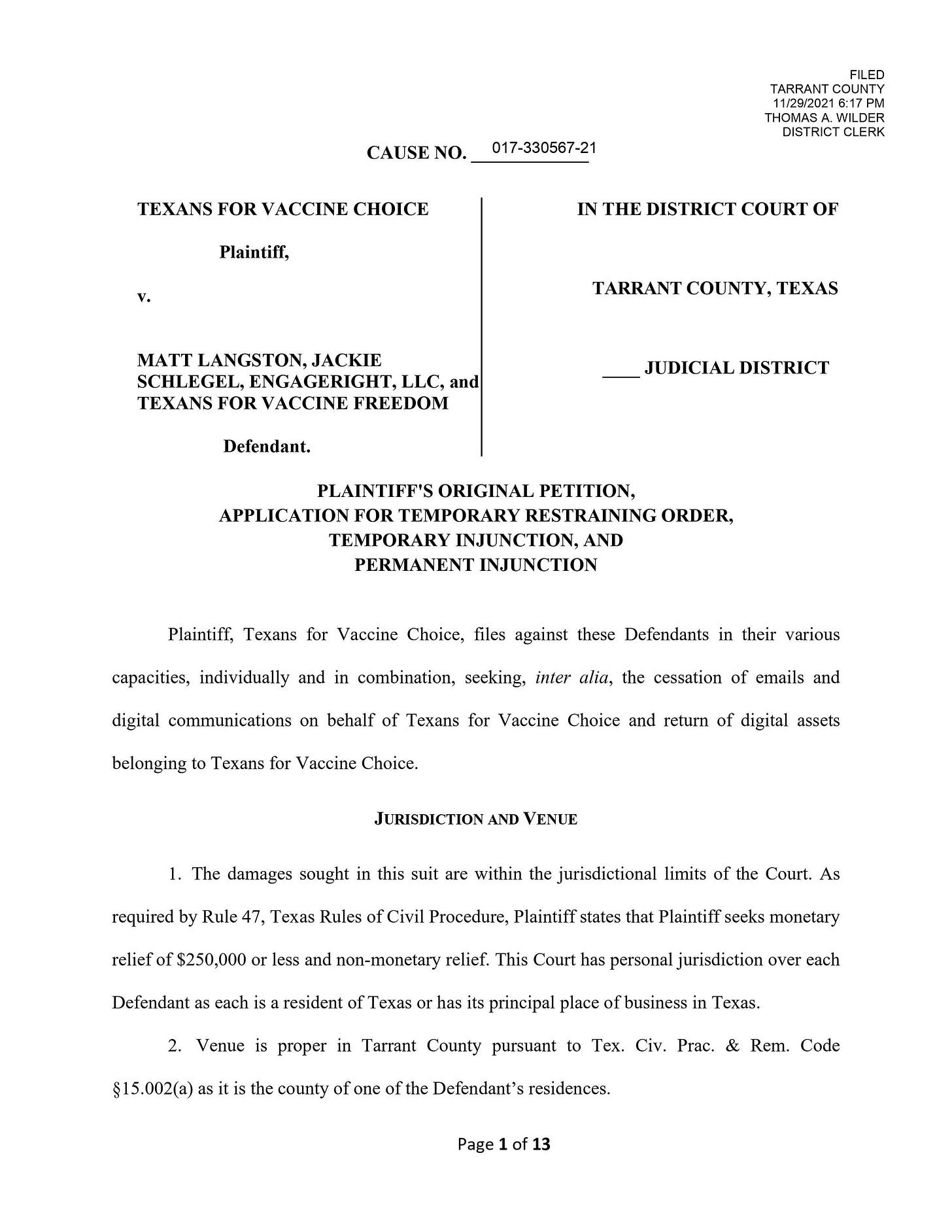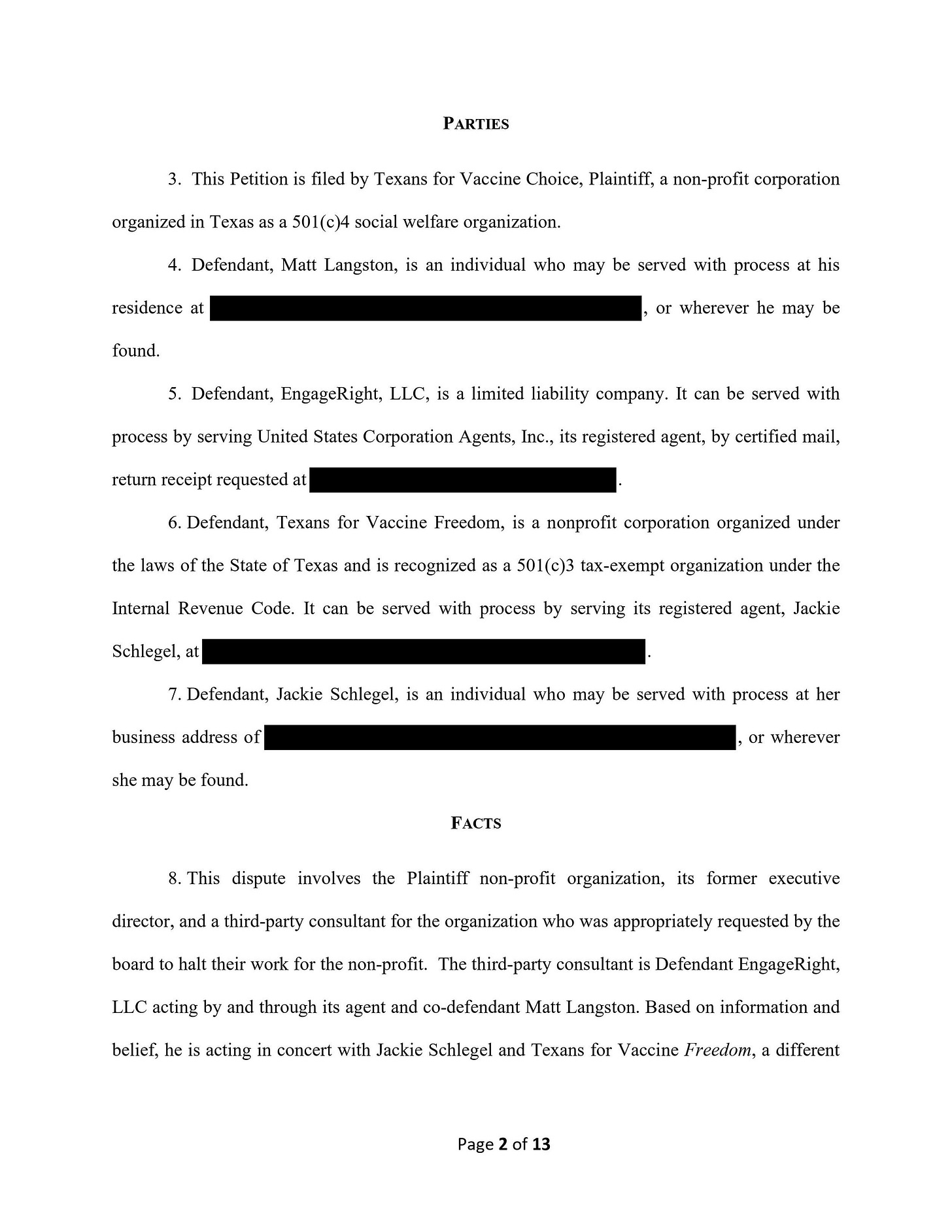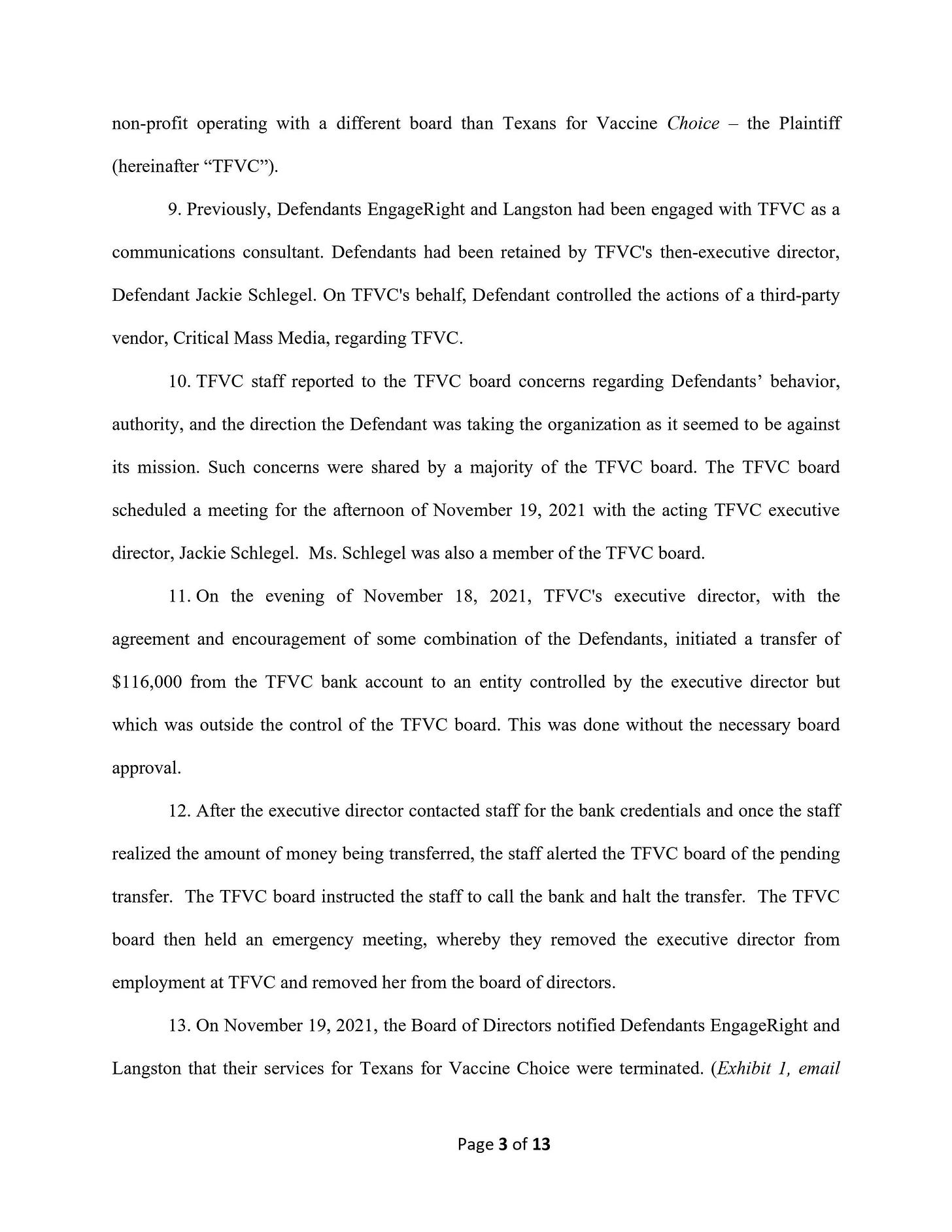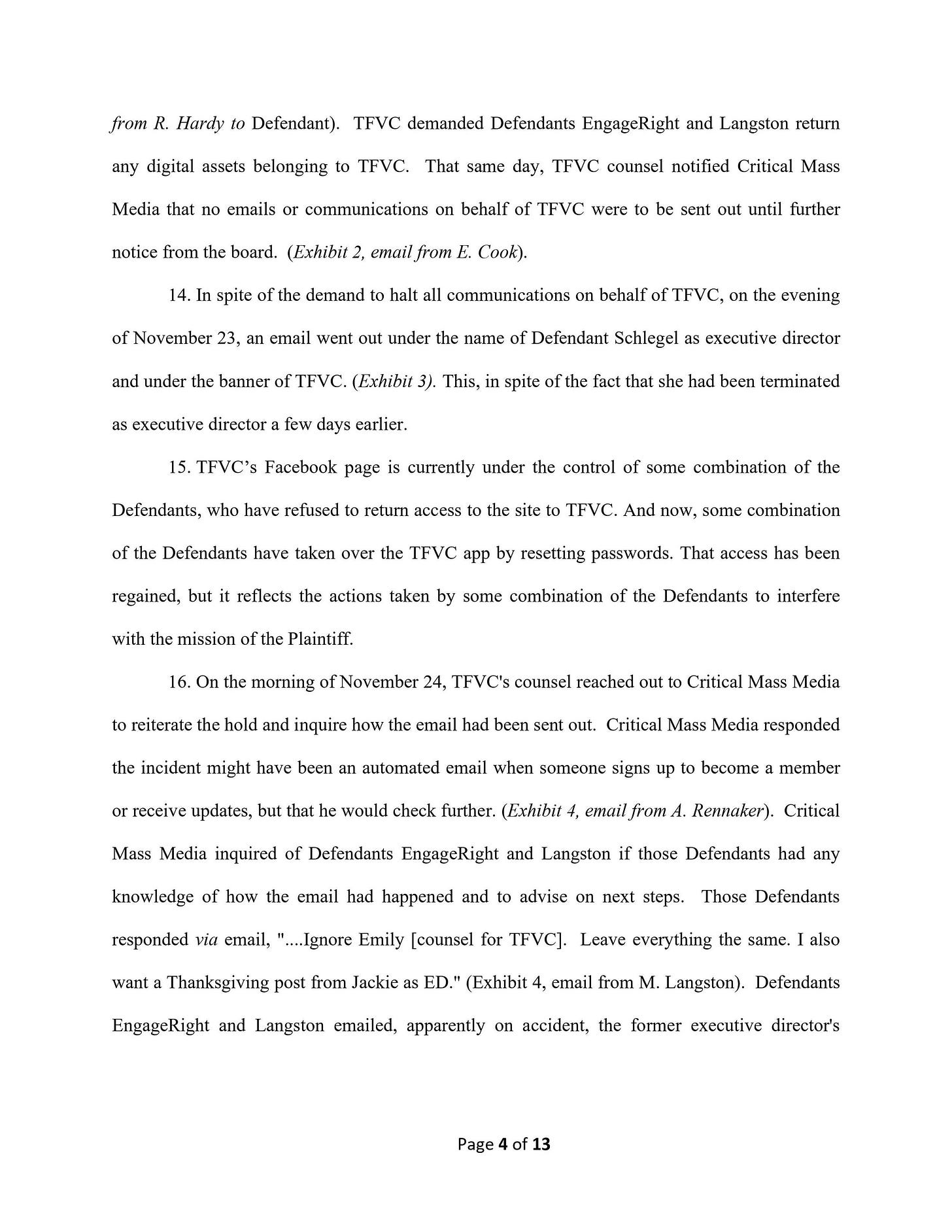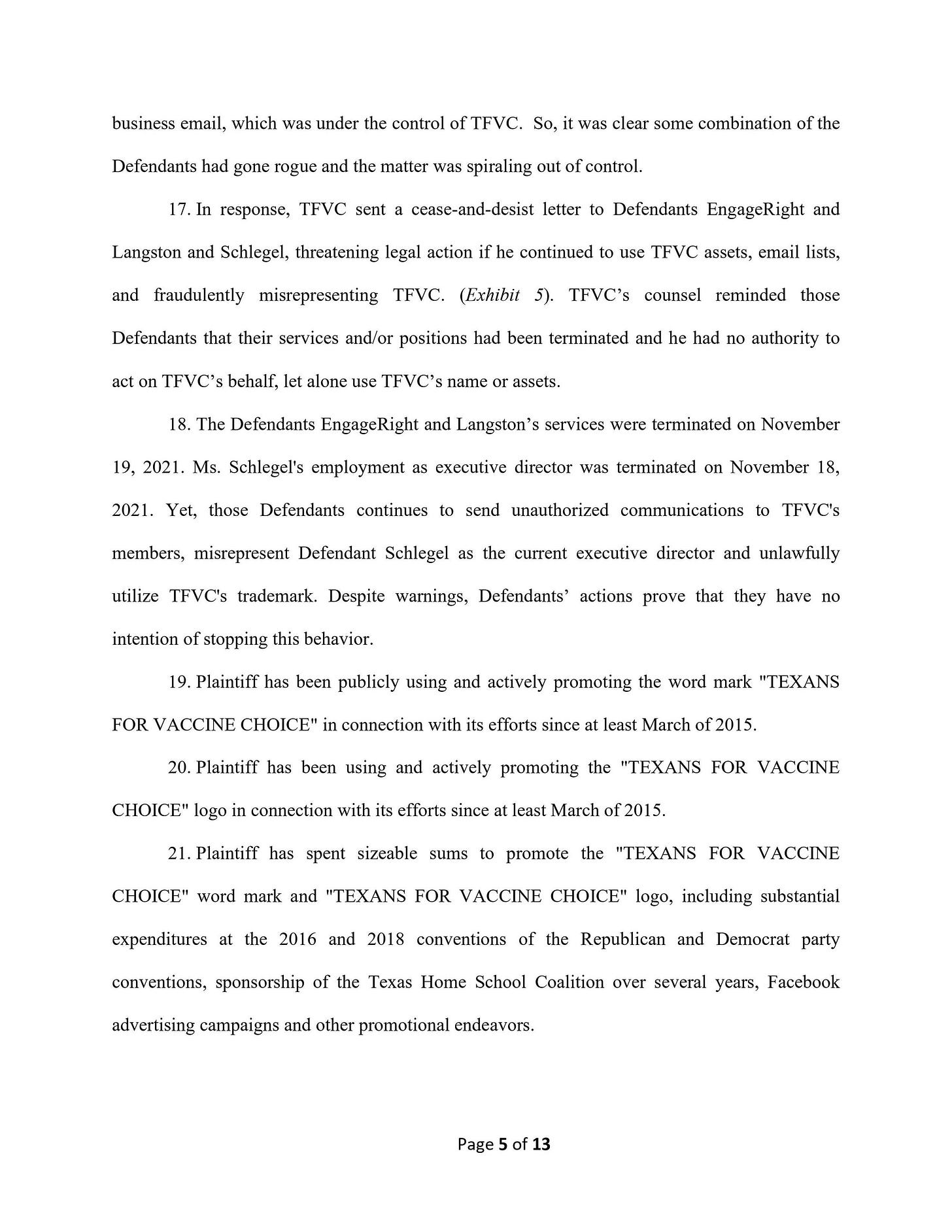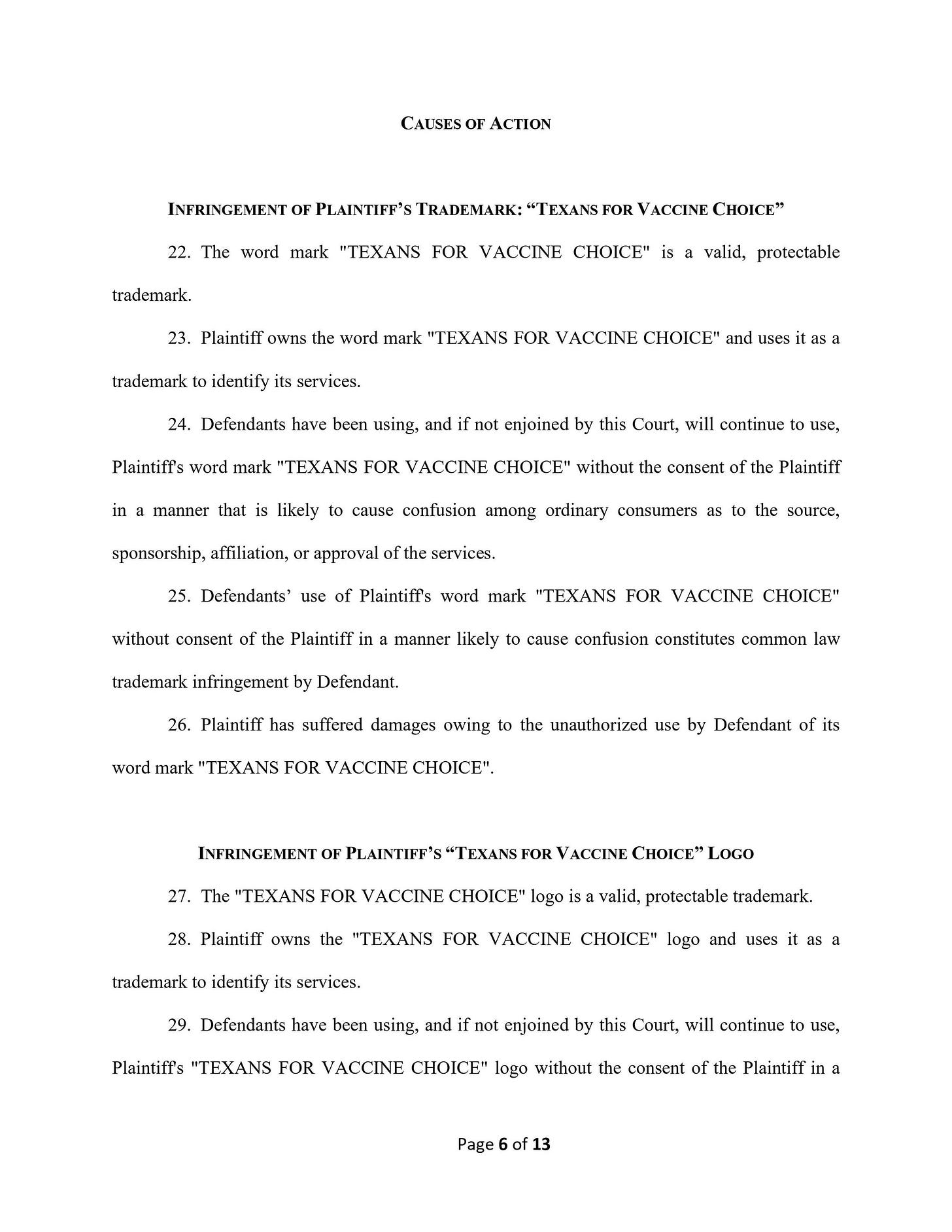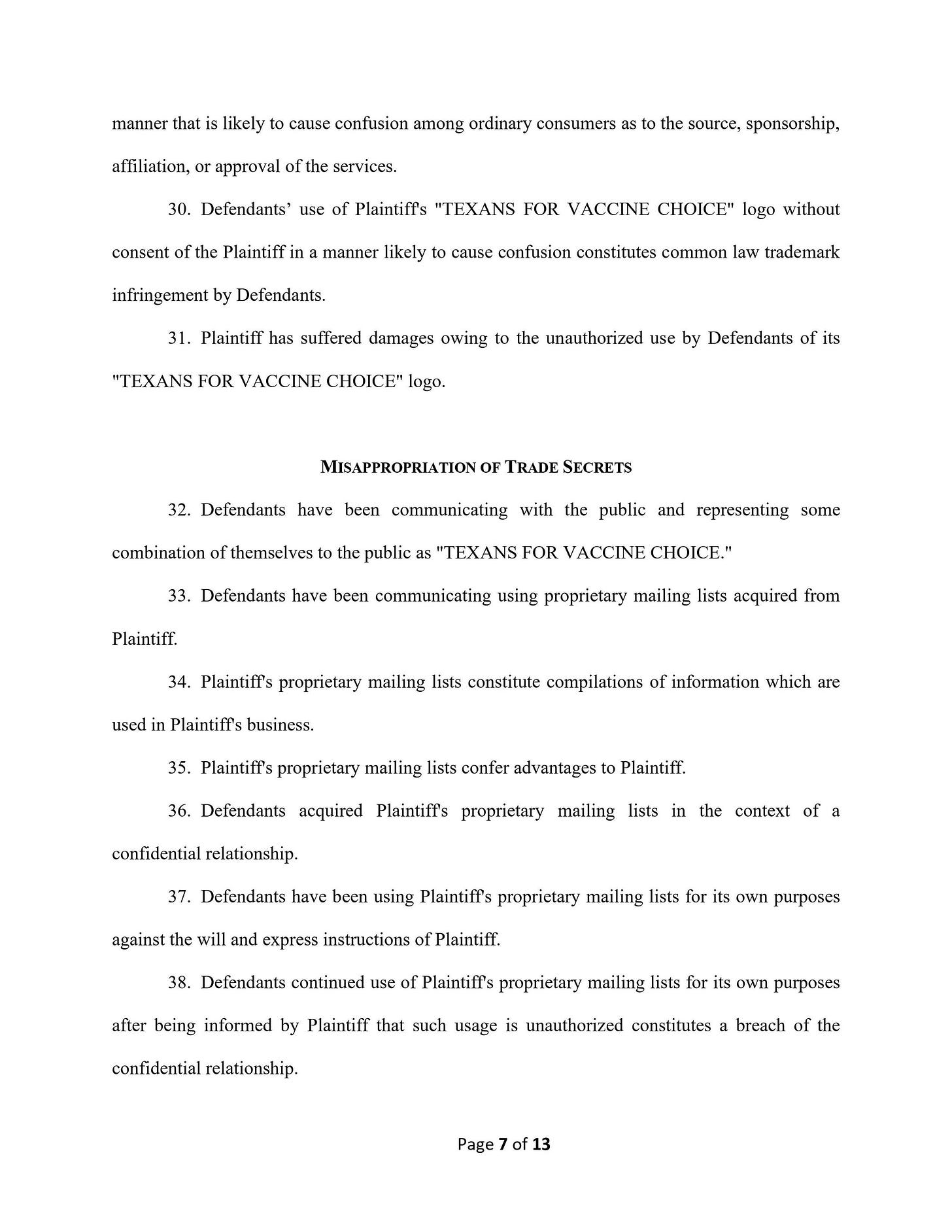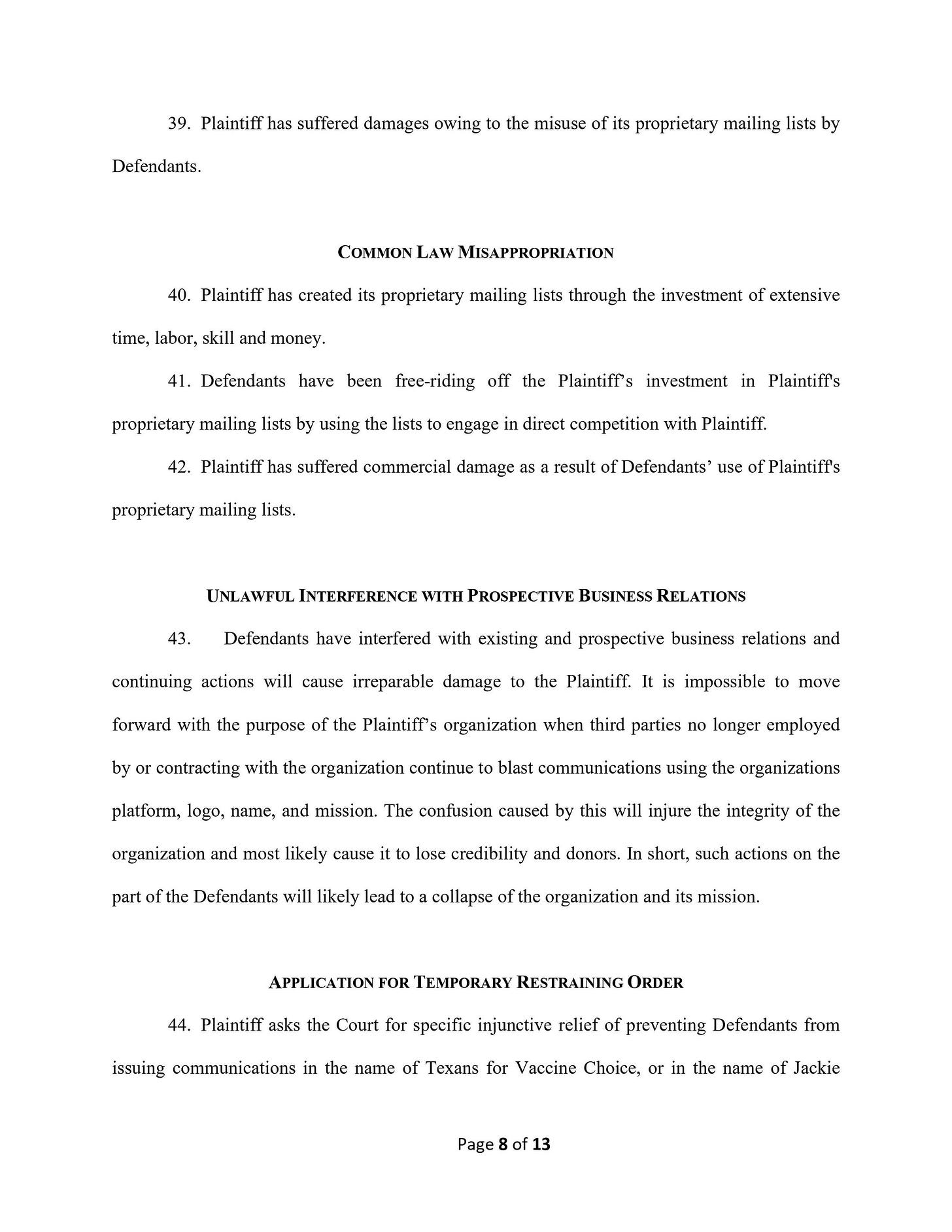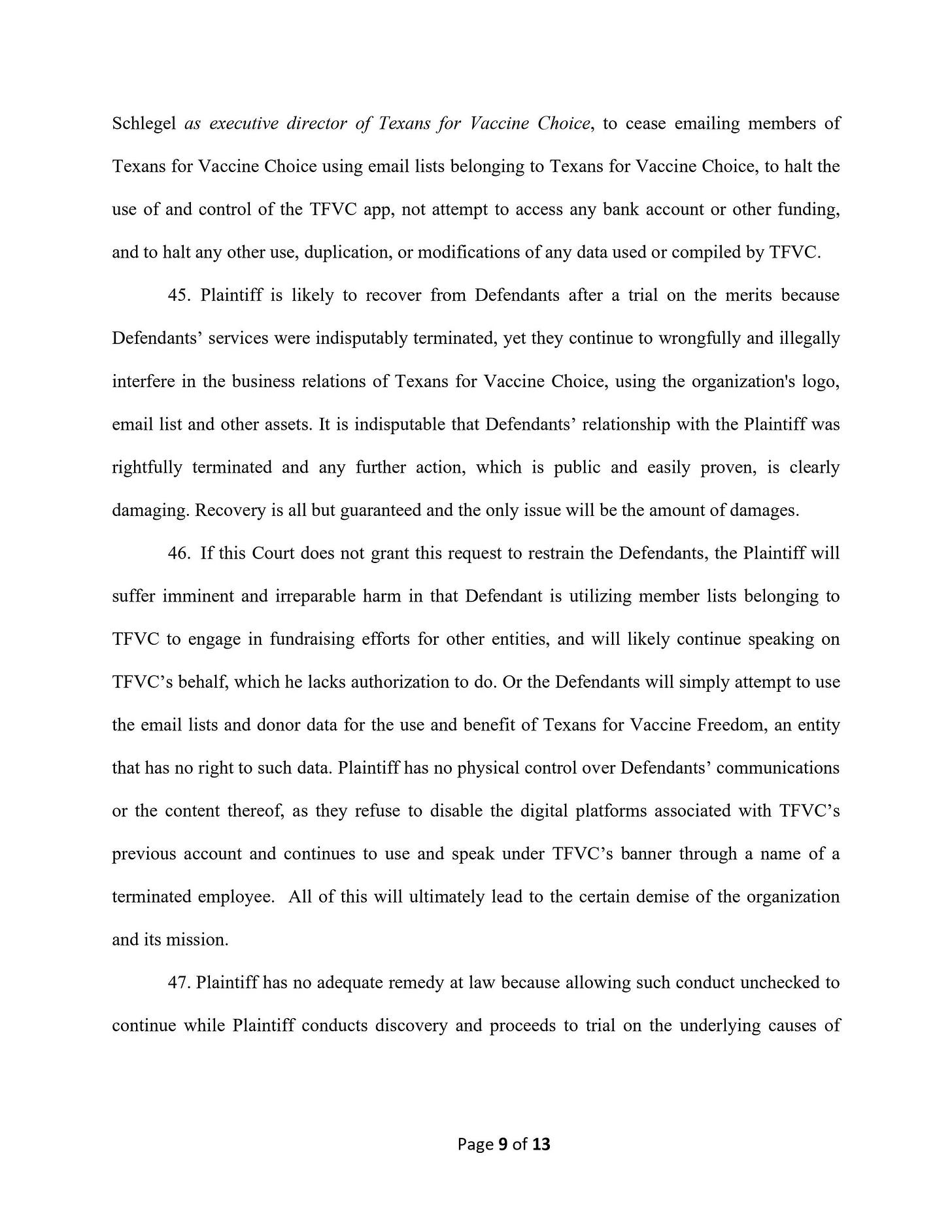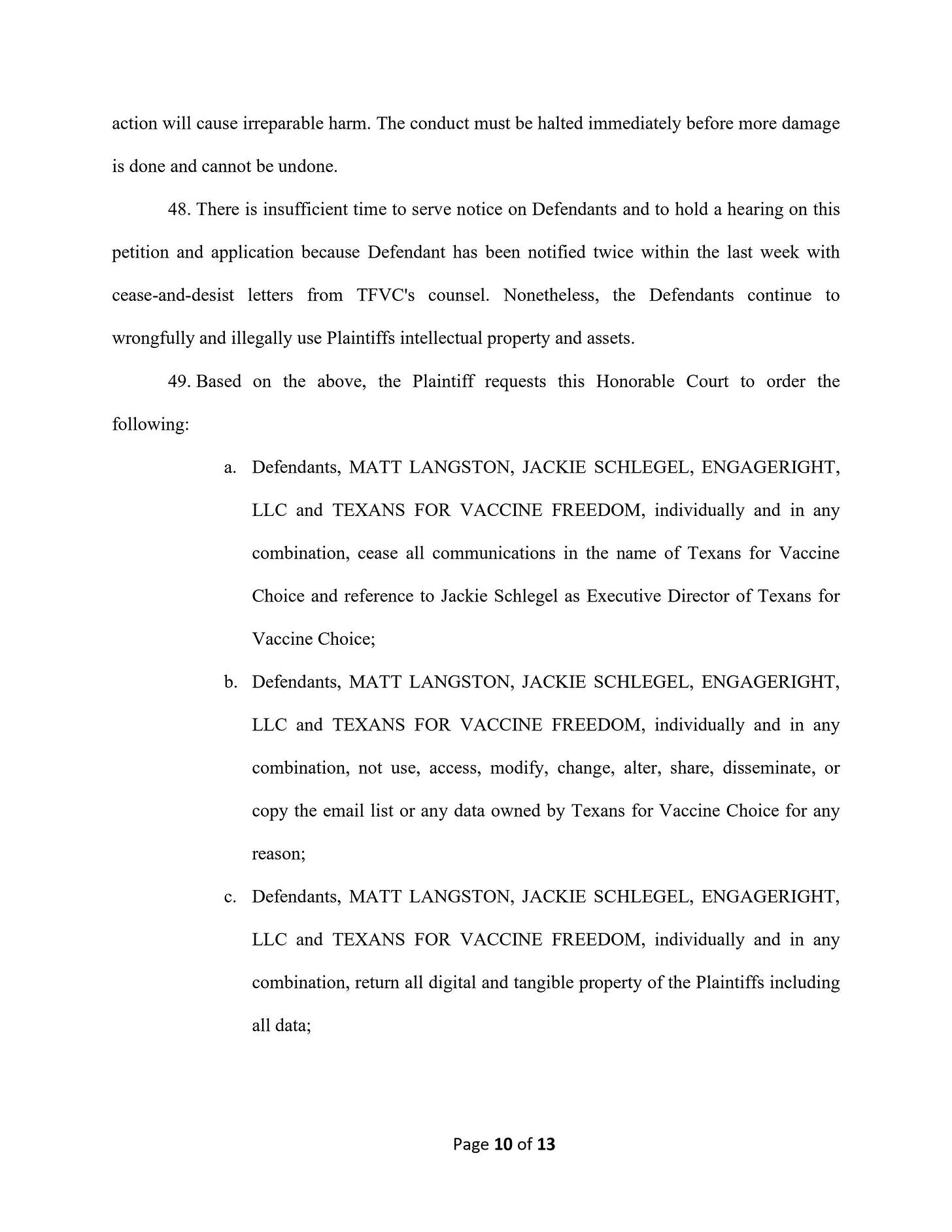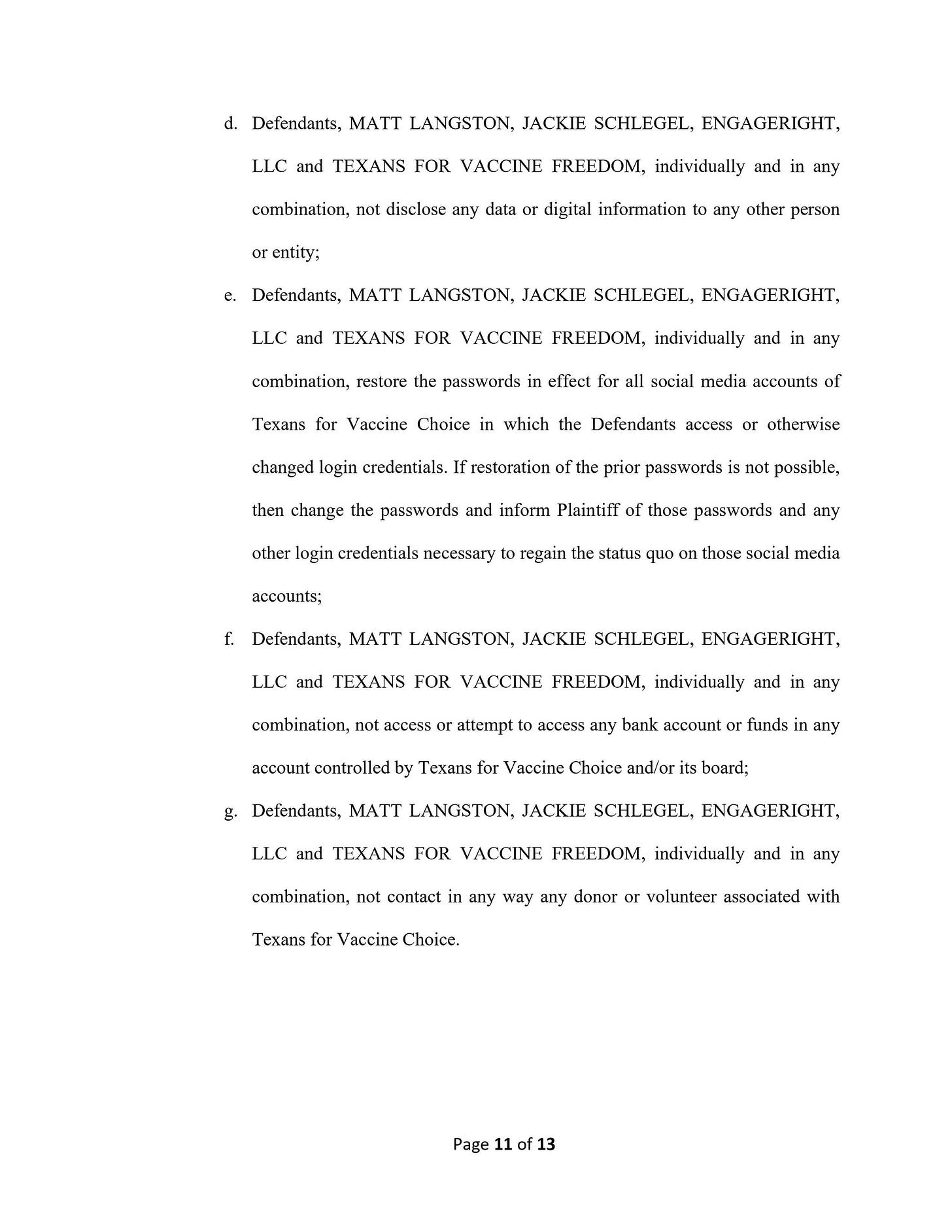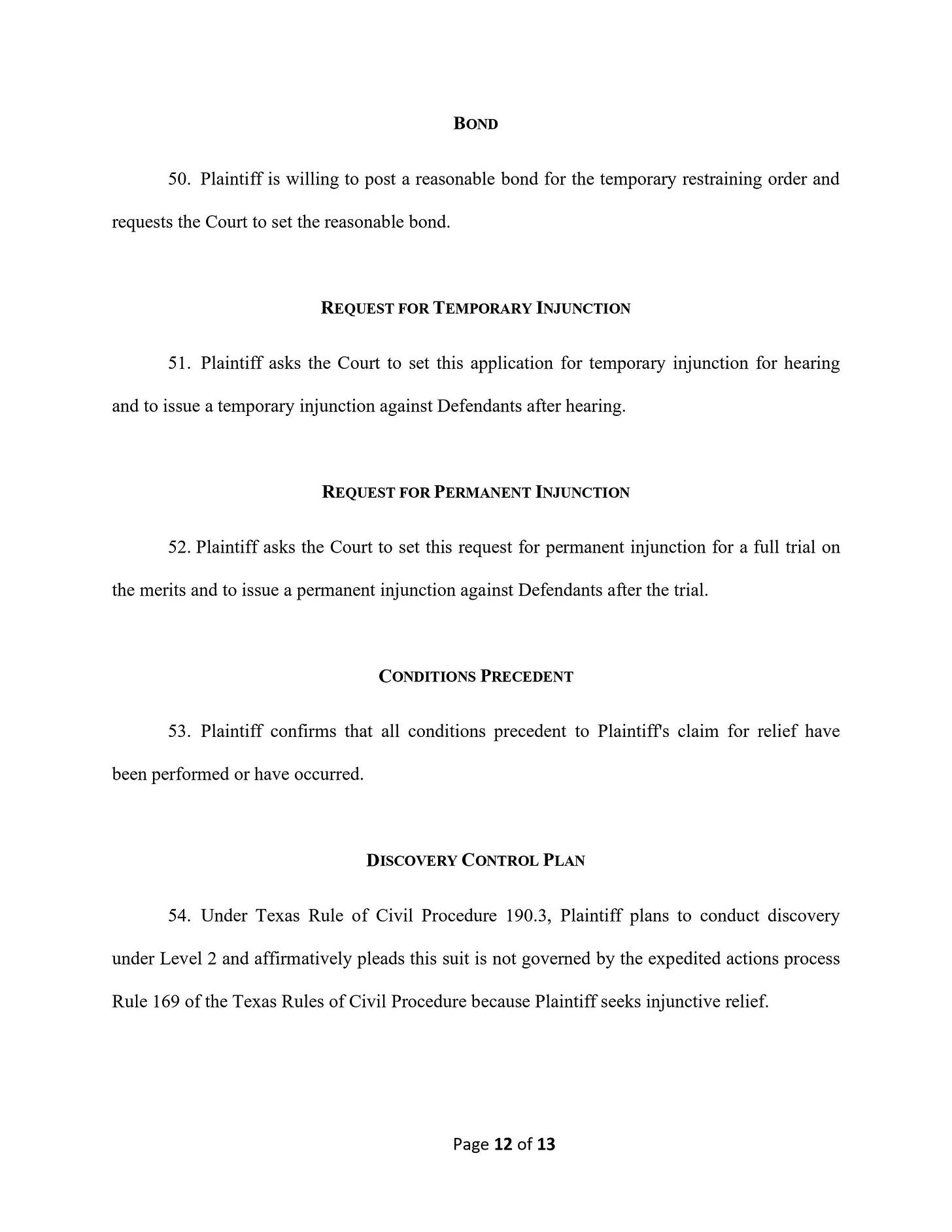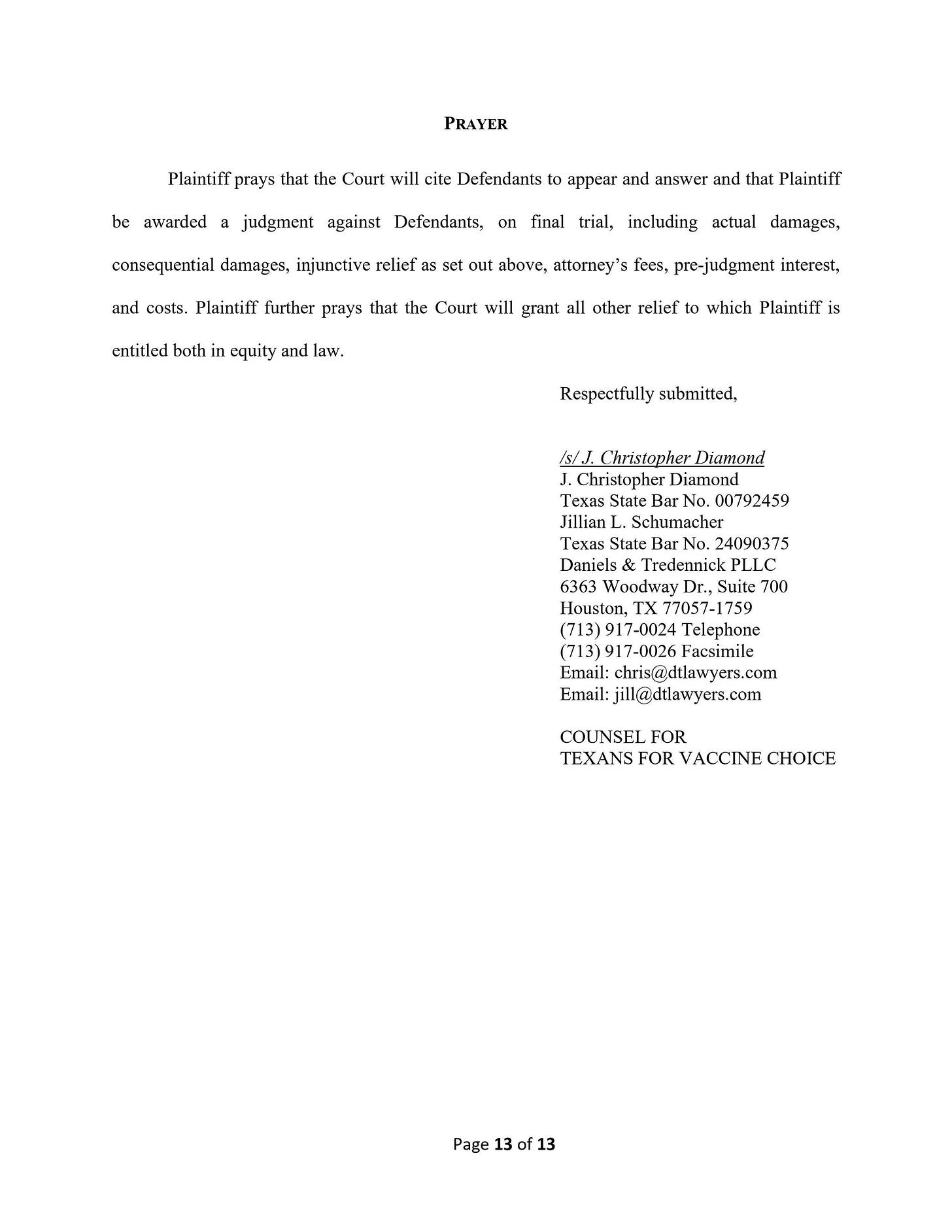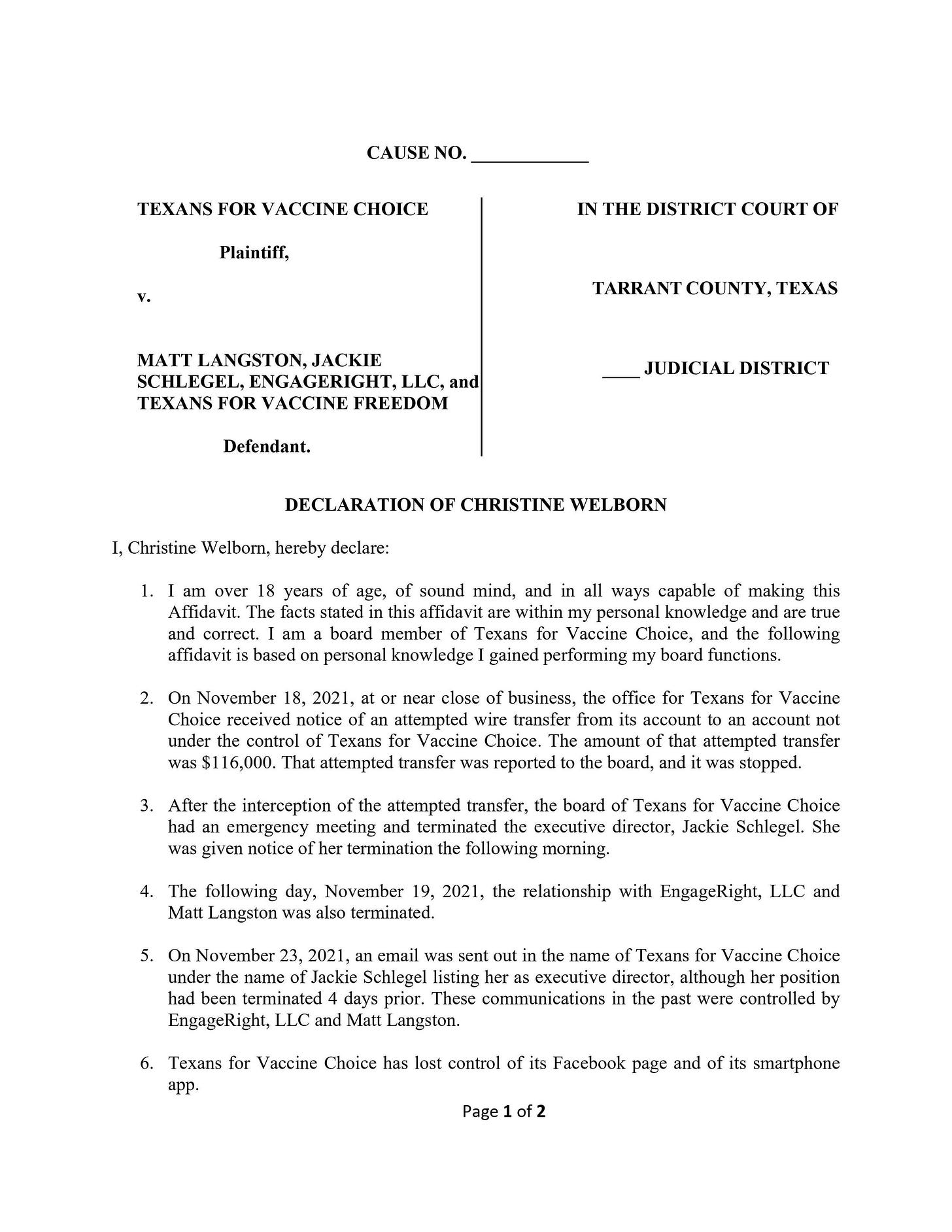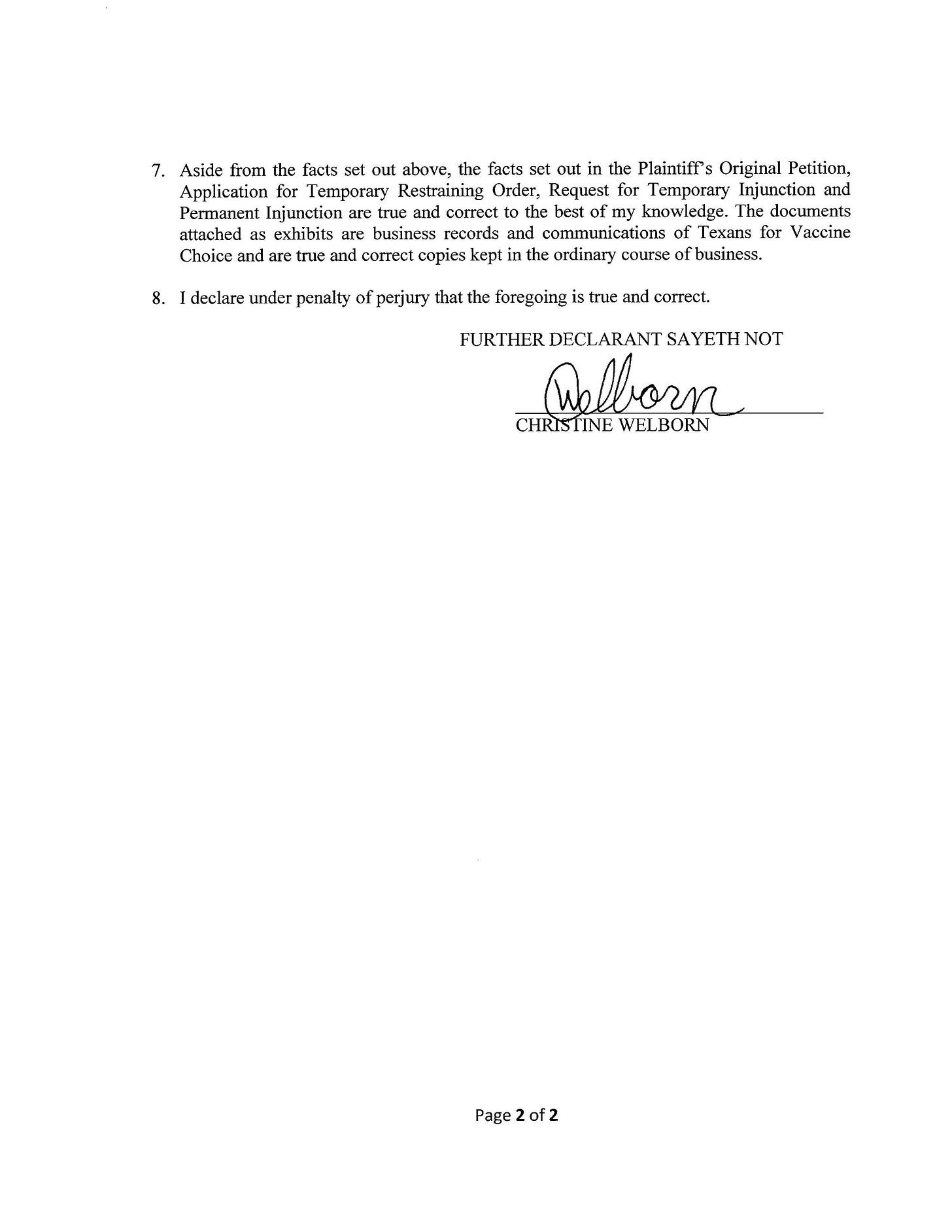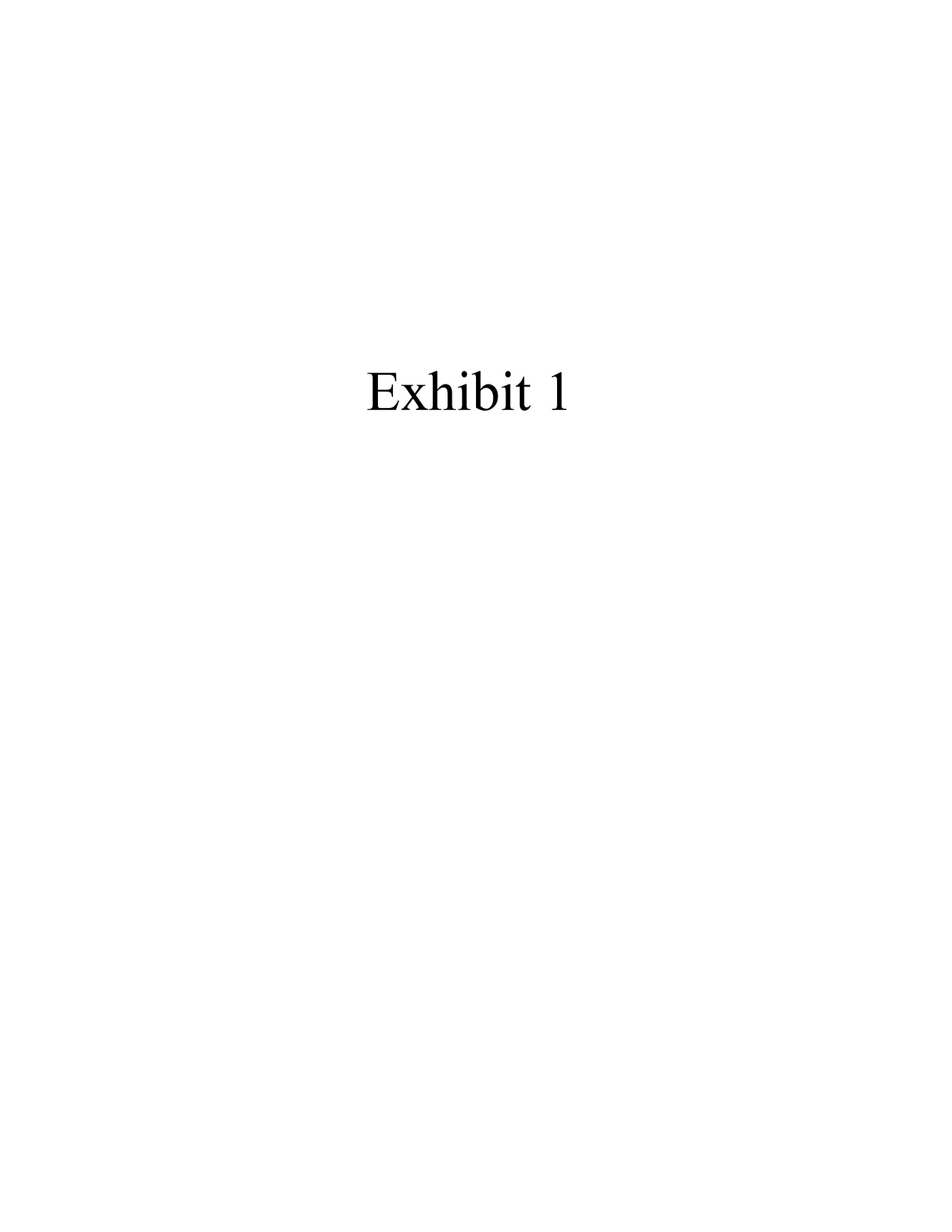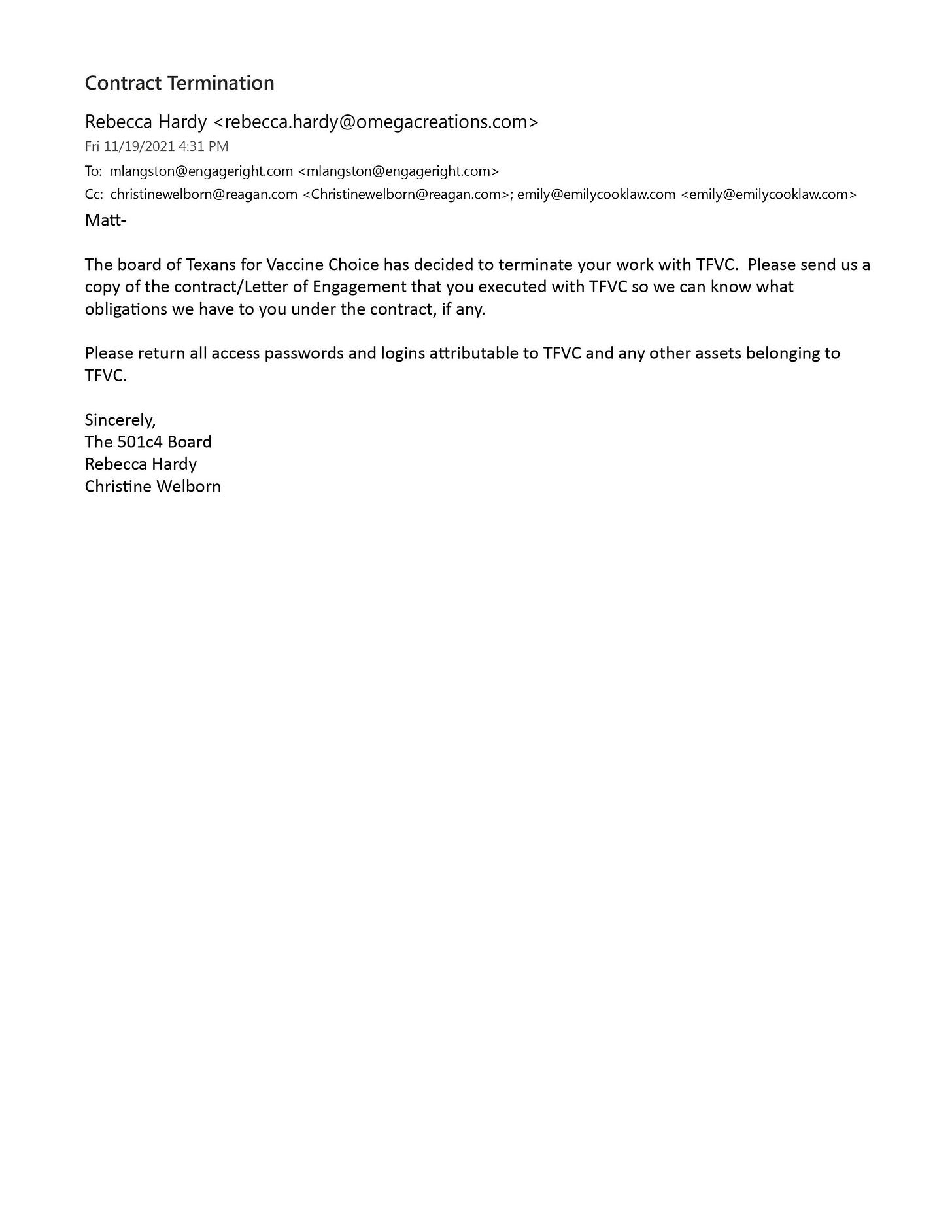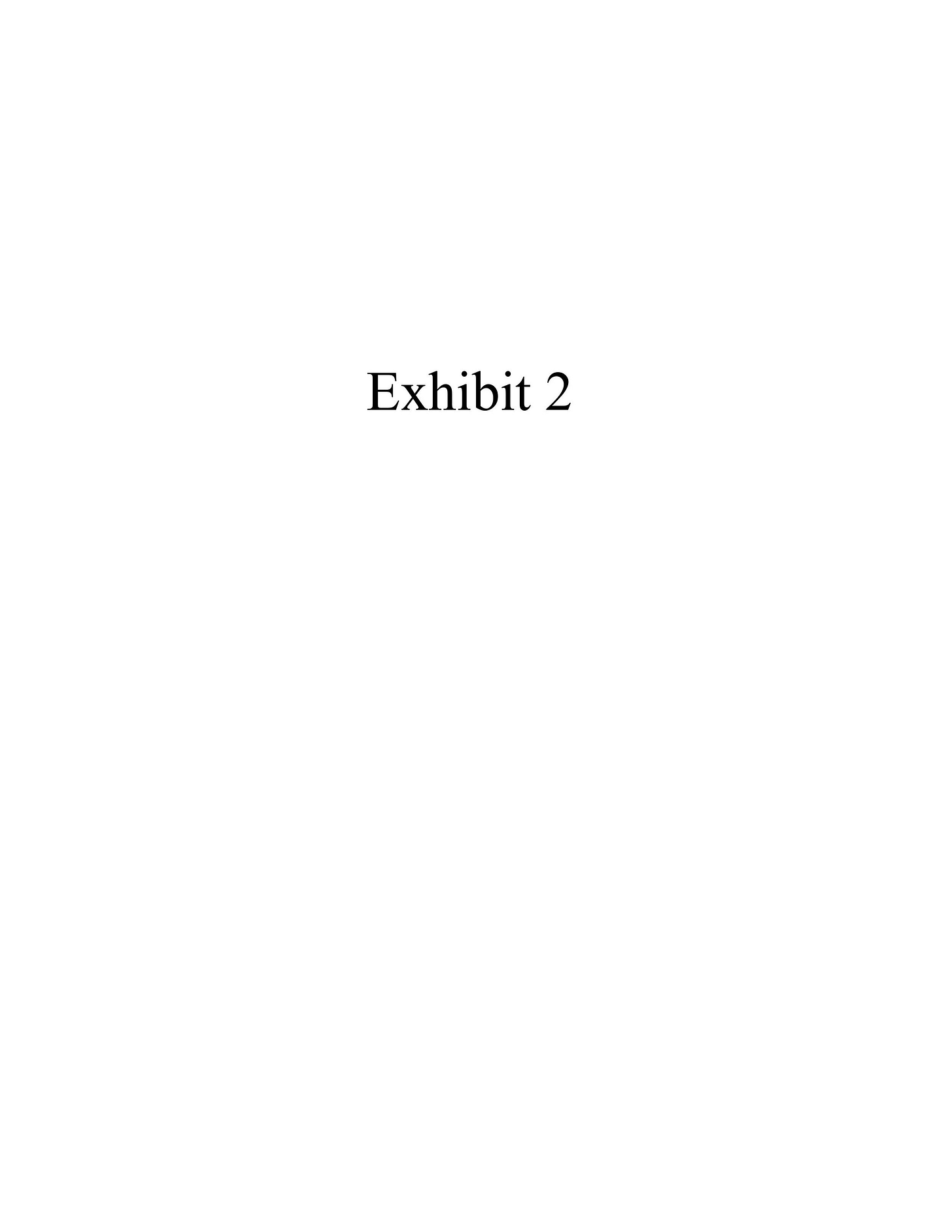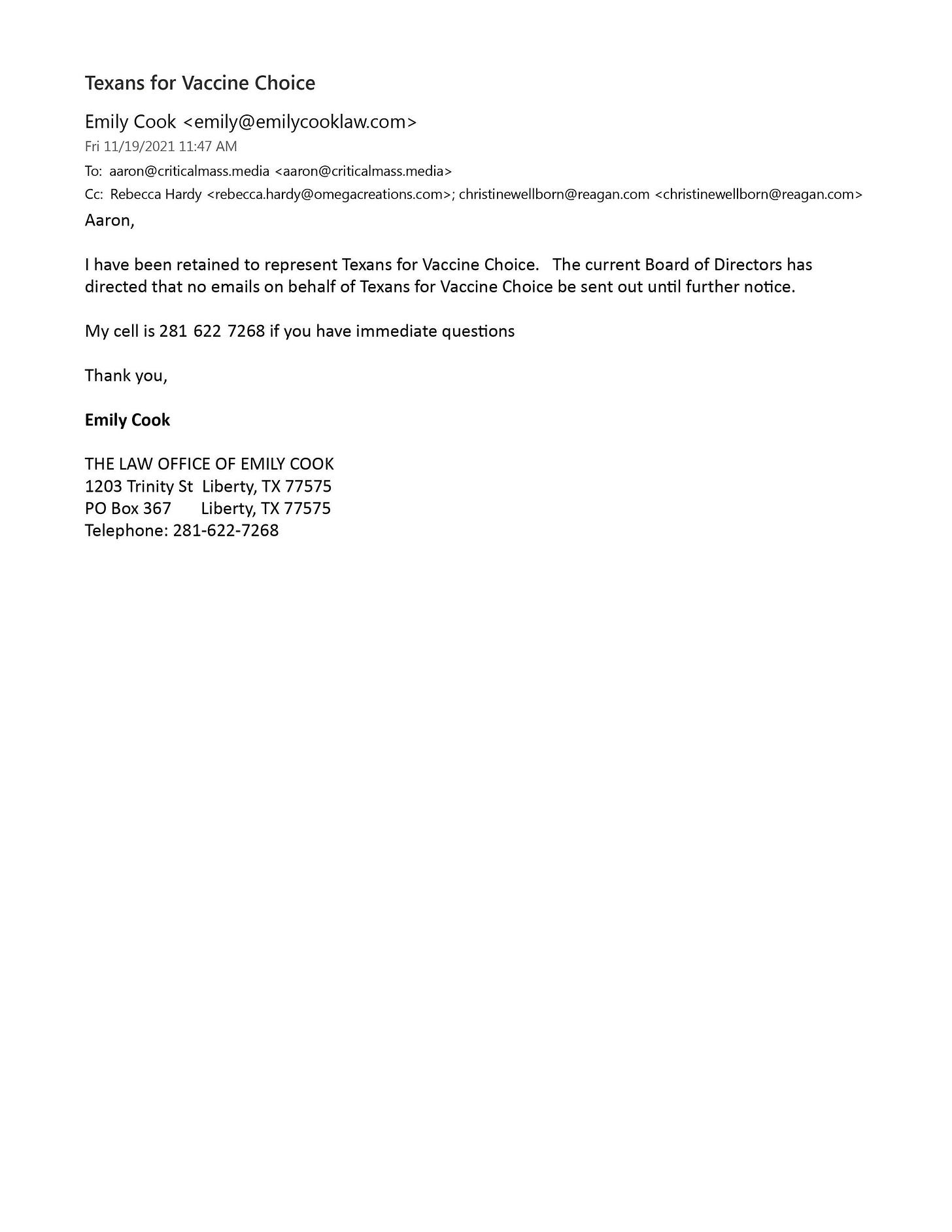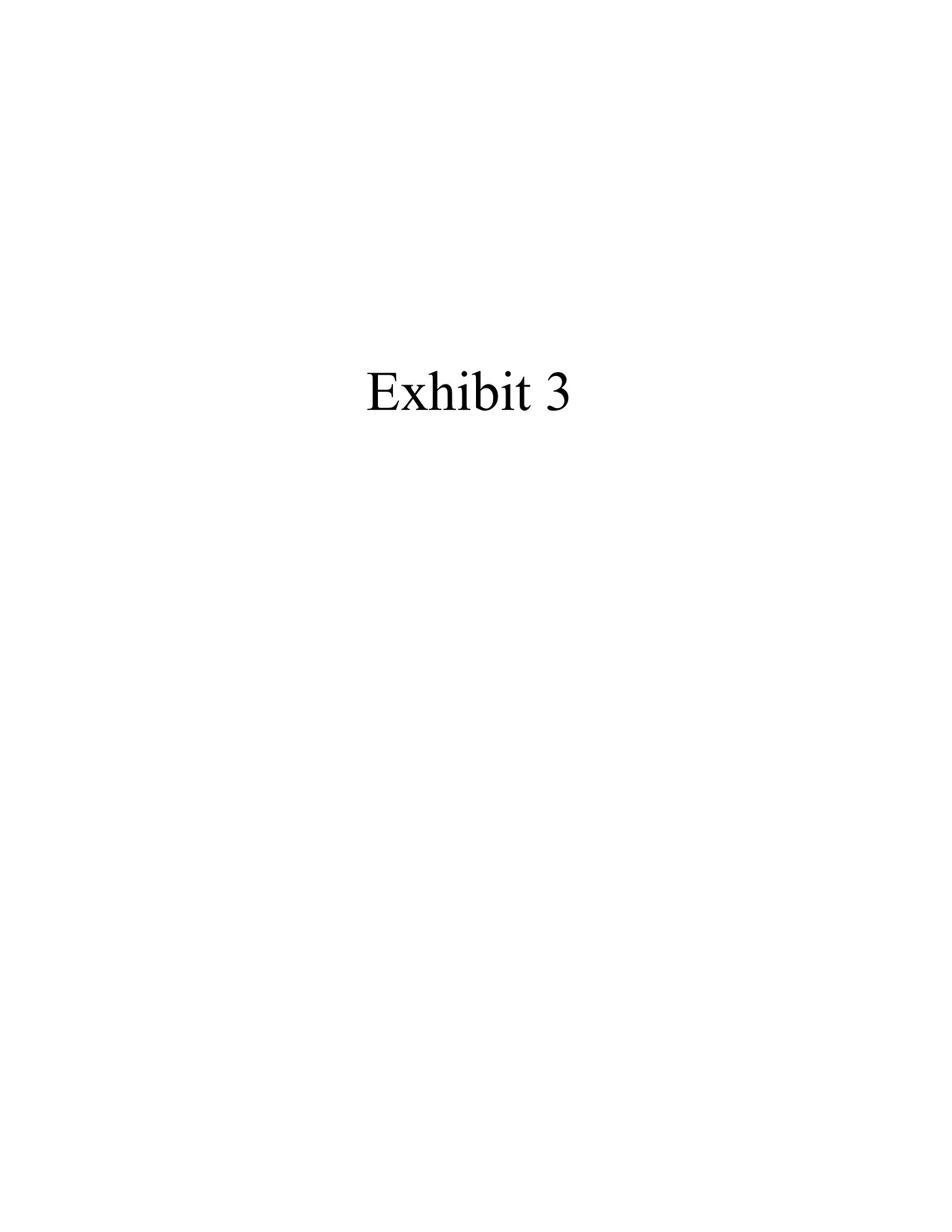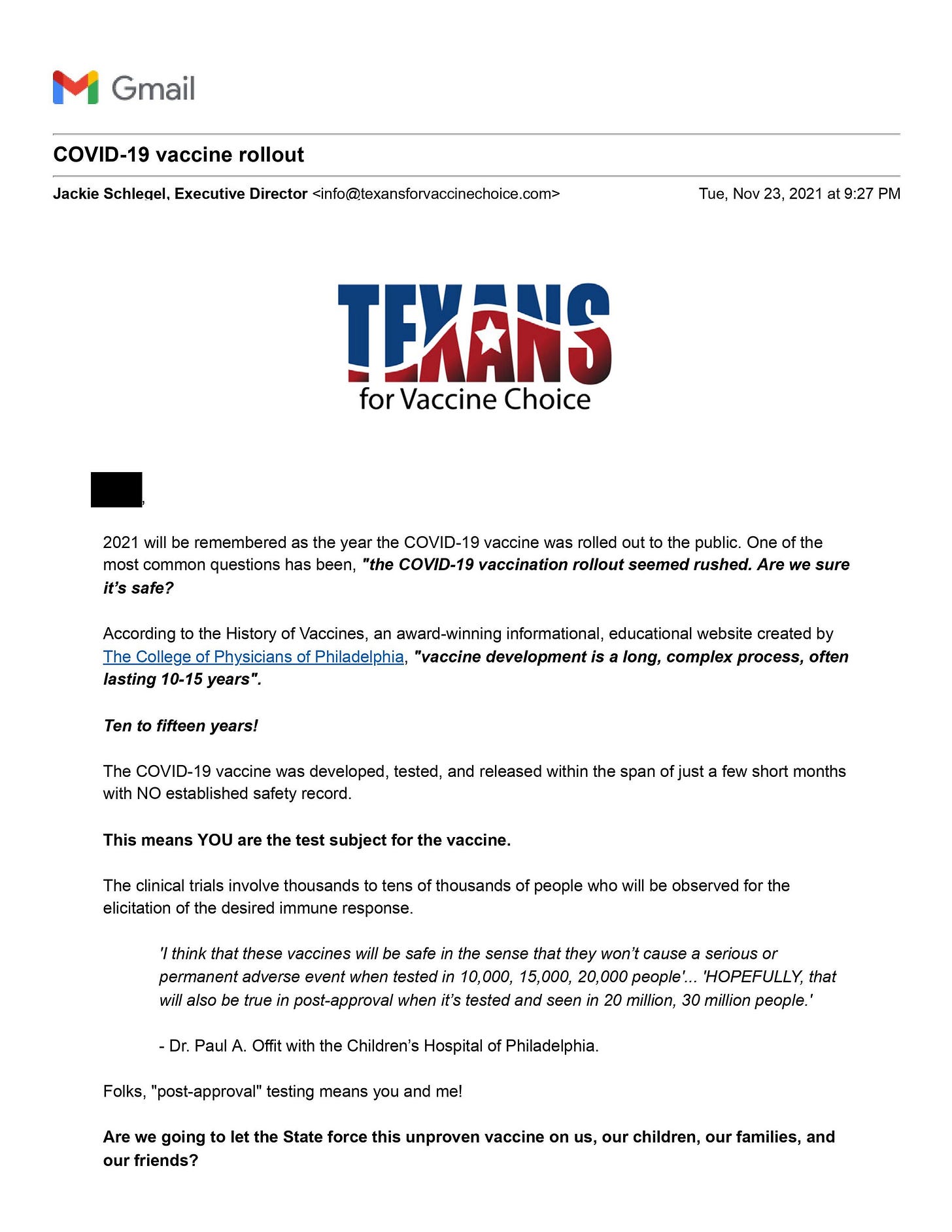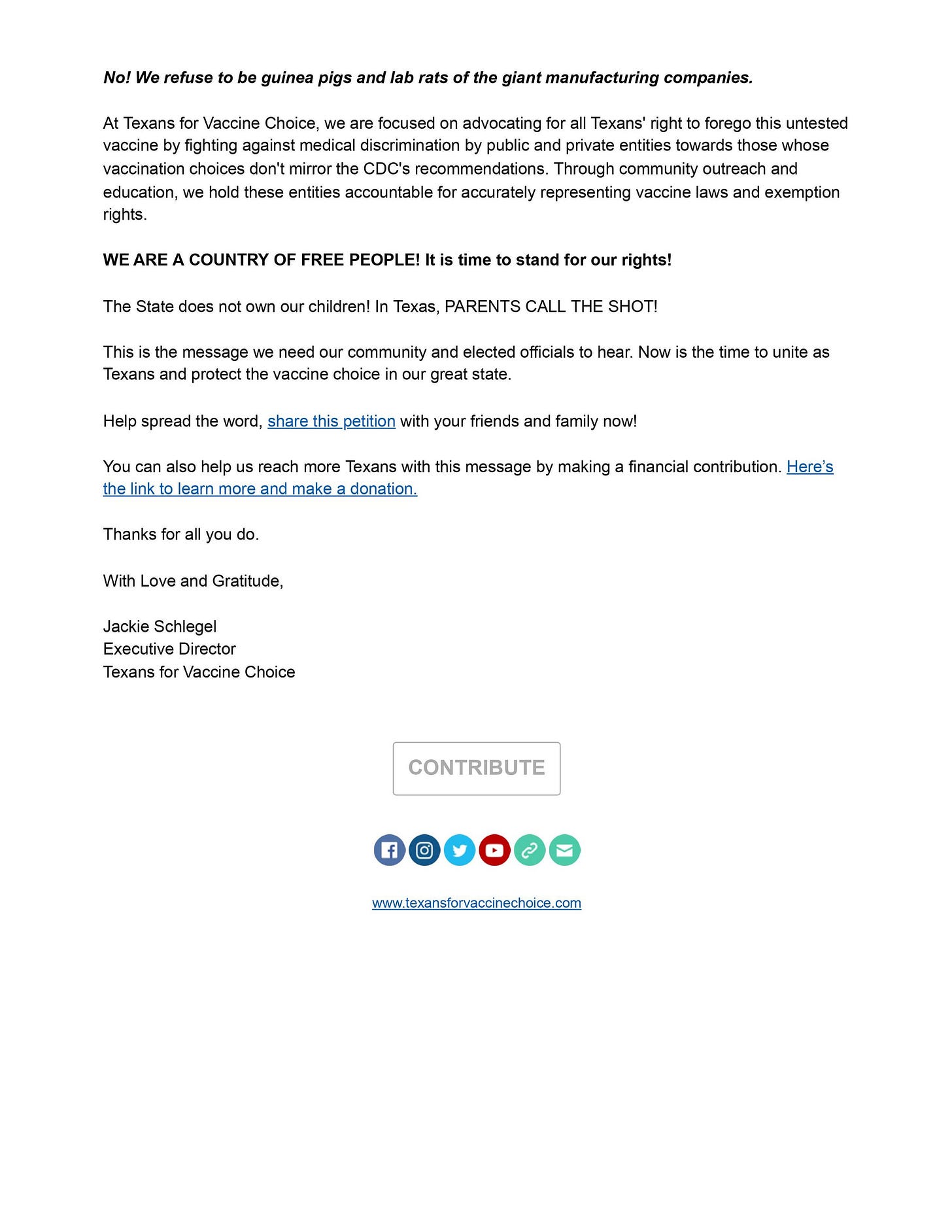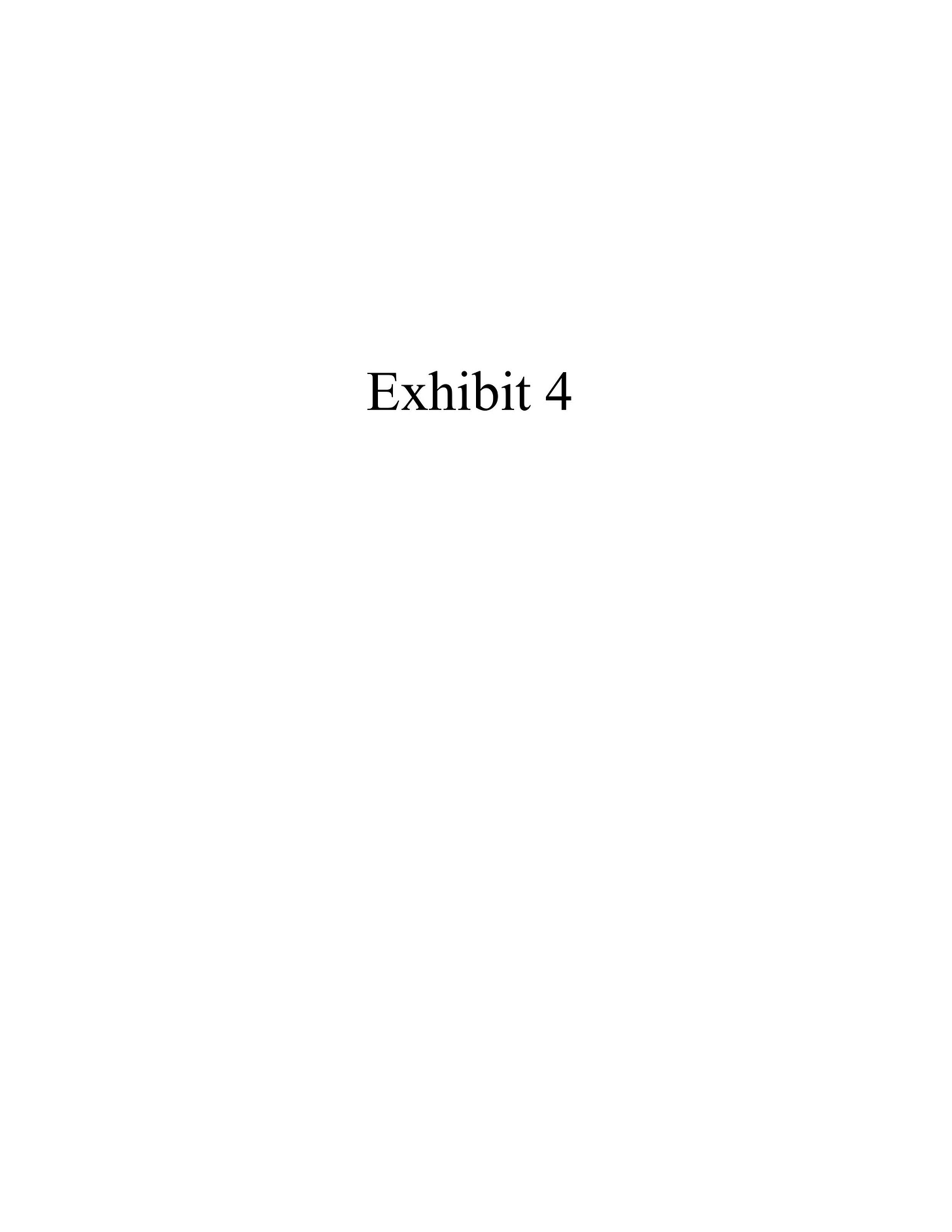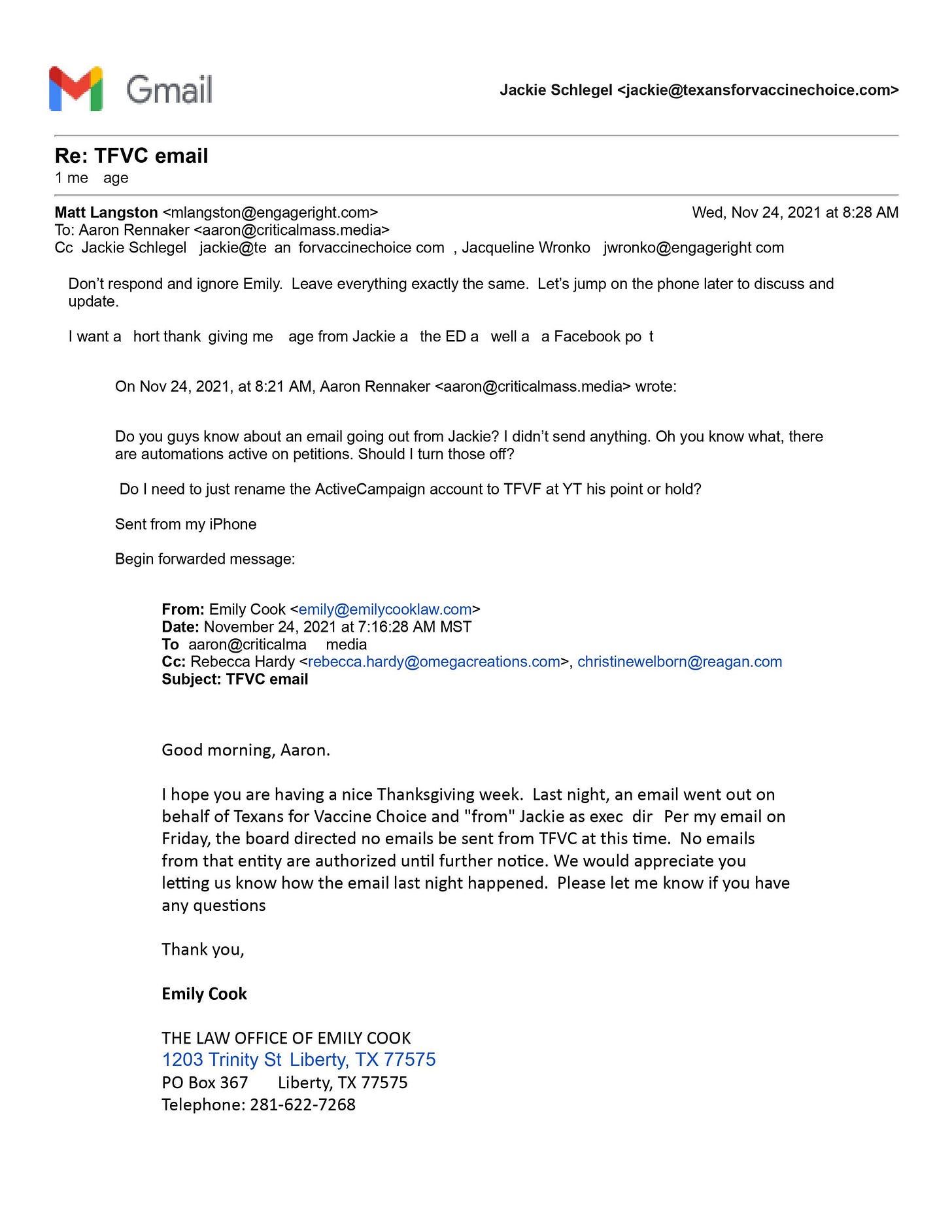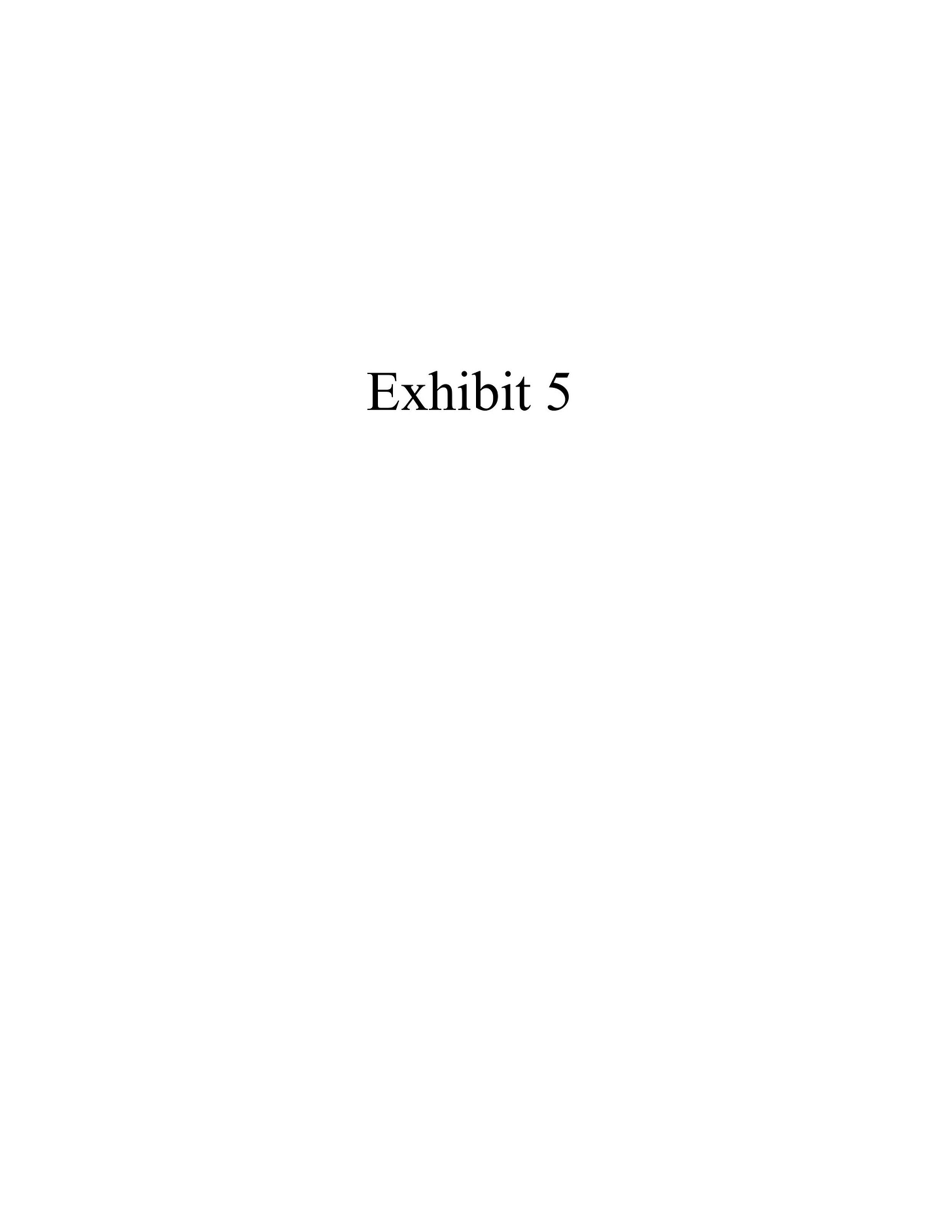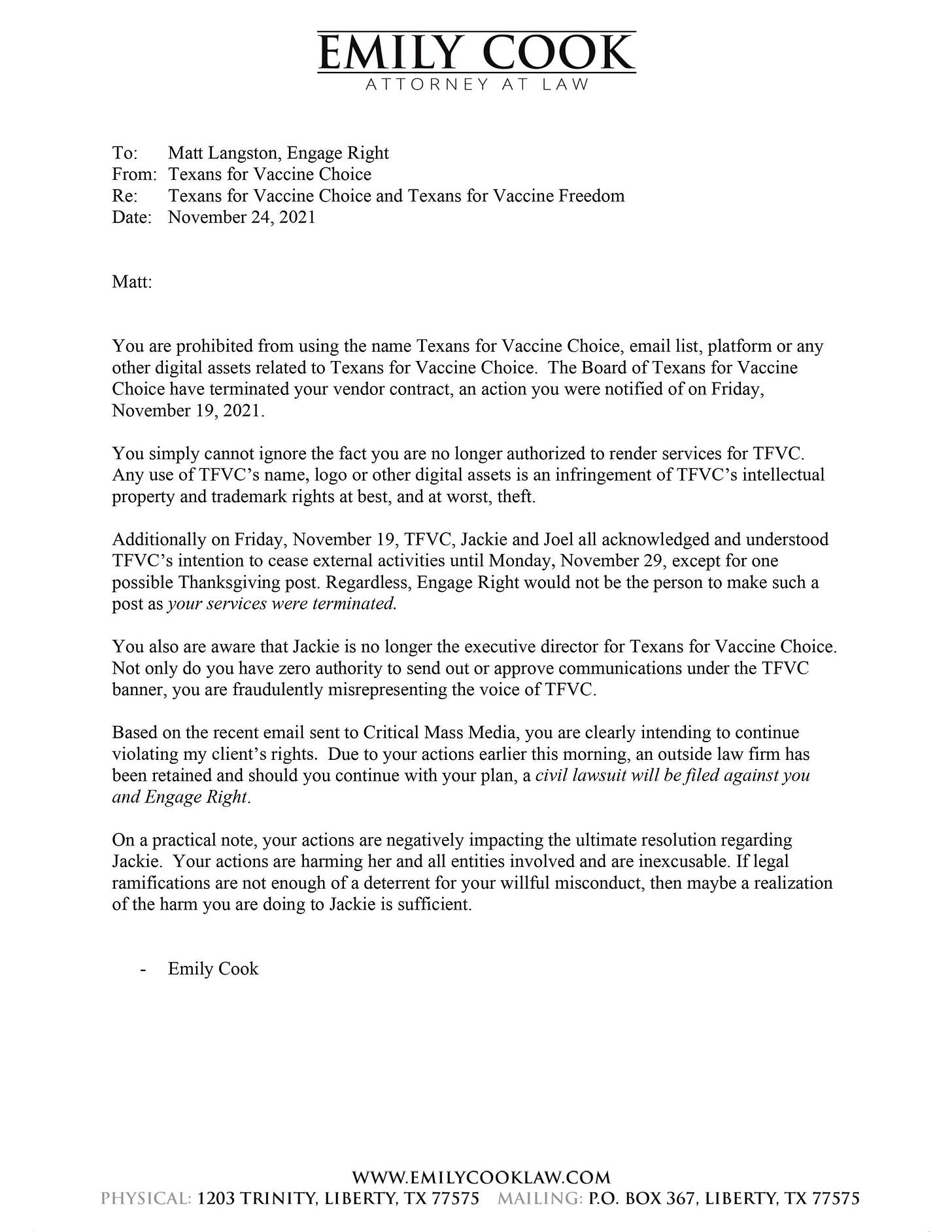 Who the TRO involves:
Texas for Vaccine Choice (TFVC)

Jackie Schlegel

Texans for Vaccine Freedom (TFVF)

EngageRight/Matt Langston
What the TRO alleges:
TFVC staff alerted the TFVC Board of a concern regarding Jackie Schlegel's "behavior, authority and the direction (Schlegel) was taking the organization."

November 18, 2021, Jackie Schlegel, along with the "encouragement" of EngageRight and TFVF, initiated a transfer of $116,000 from the TFVC bank account to an entity controlled by Schlegel but outside control of the TFVC Board.

The TFVC claims this was without board approval.

TFVC staff alerted the TFVC Board of the pending transfer, the TFVC Board instructed staff to halt the transfer.

The TFVC Board then held an "emergency meeting" (seemingly without Schlegel), voting to remove her from the board of directors and fire her from TFVC.

TFVC Board then notified EngageRight and Matt Langston that their services with TFVC were terminated.

TFVC demanded that EngageRight and Langston return any digital assets belonging to TFVC.

TFVC counsel sent notification that no emails or communications on behalf of TFVC were to be sent out without further notice of the board.

Despite a notice being given to halt communications, an email was sent under Jackie Schlegel as Executive Director of TFVC.

TFVC claims the Facebook page is still under control by Jackie Schlegel and/or EngageRight who have refused to return access.

TFVC claims passwords have been changed by those named, although access was regained by TFVC.

TFVC claims that Schlegel continues to send "unauthorized" communications to TFVC members that "misrepresent" Schlegel as the current executive director.

TFVC says they own the wordmark "TEXANS FOR VACCINE CHOICE" and that Jackie Schlegel no longer has legal right to use it.

TFVC is claiming they've suffered damages.
Grassroots activists noticed something was going on in the last several weeks.
The time between the last two Facebook posts on the TFVC was 16 days. Very abnormal when TFVC was posting quite regularly before Jackie was terminated.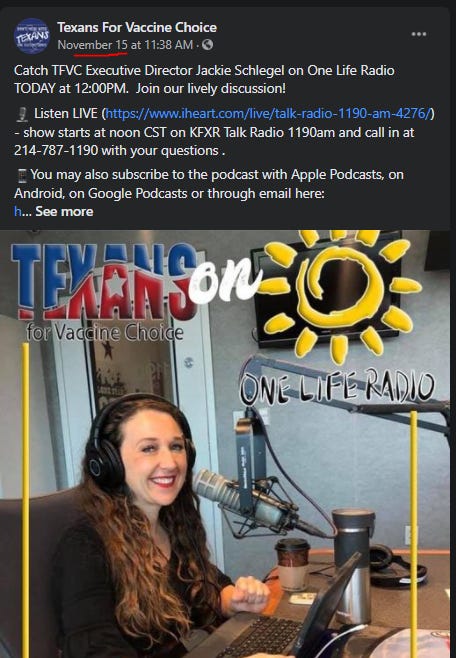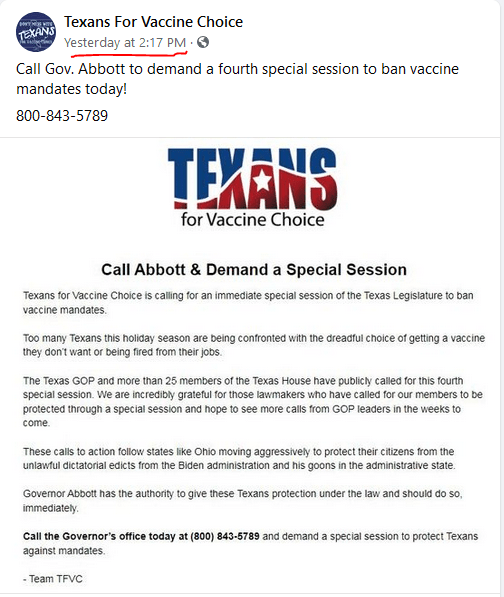 The content of their most recent post seems telling as well. Very anti-Abbott which, of course, we at Current Revolt are all about. But a TFVC Facebook-page search of the word "Abbott" shows a very limited amount of anti-Abbott posts for the last several years. We're taking a wild guess here that some of the "concerning behavior" the current TFVC board was referring to was Jackie's lack of attacks on Abbott.
We've also had several people reach out to us mentioning things were getting a bit weird in regards to TFVC get-togethers. An event hosted by TFVC on December 1st seemed to lack TFVC's usual flair for quality and decorum. It also lacked Jackie Schlegel herself: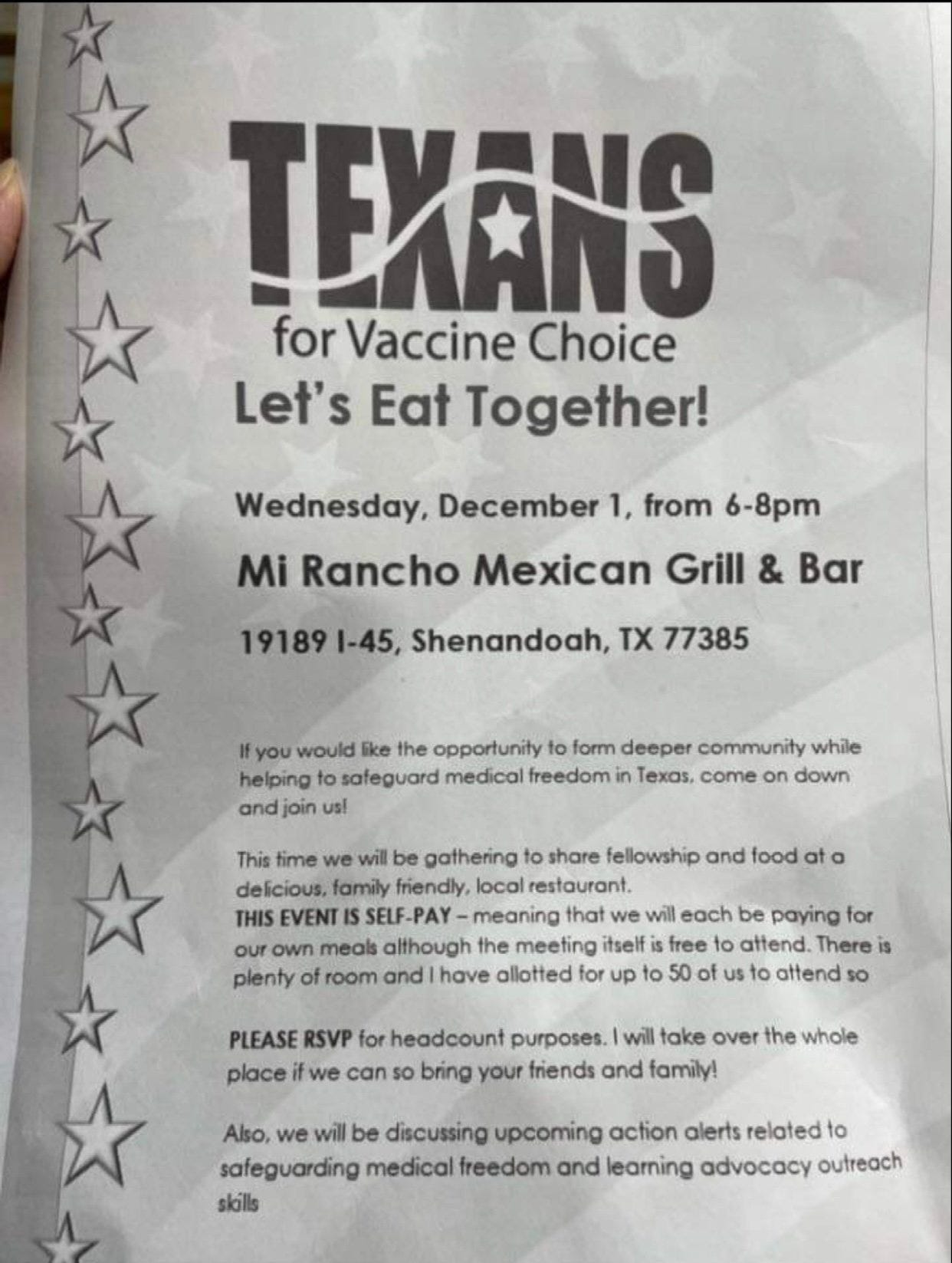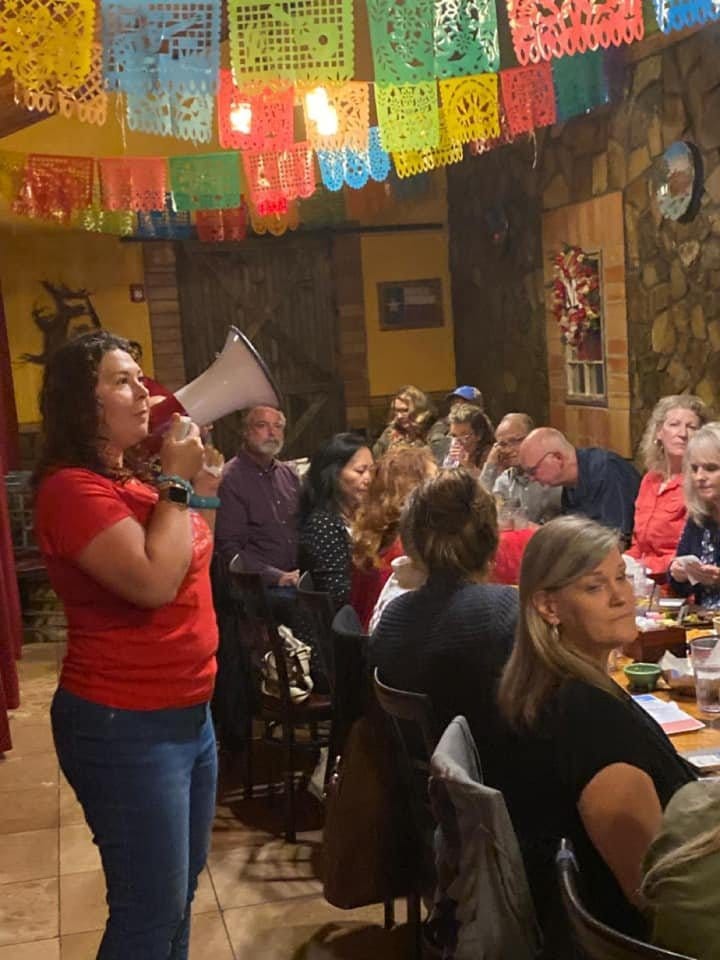 Imagine trying to enjoy a couple of tacos for lunch at a quiet Mexican restaurant and someone shouts over a megaphone how vaccines are scams (true) and how the people shilling these vaccines and refusing to provide us medical freedom are traitors and scam artists (also true). Also not seen: Jackie Schlegel.
It should be noted that the Board of Directors for Texans for Vaccine choice are:
Rebecca Hardy – Political Executive for Don Huffines Campaign
Christine Welborn – Director of Election Integrity at Direct Action Texas and Director at Refresh Liberty
(Formerly) Jackie Schlegel – Founder and Executive Director of TFVC
So far there aren't any public statements by Jackie Schlegel or Texans for Vaccine choice. We're not picking sides here as we have no idea what's going on, but we do have a lot of questions:
Why hasn't a public statement been made by either party?

Who on the TFVC board lead the charge here and drove the removal of Schlegel?

What "entity" was Schlegel moving the alleged unauthorized $116,000 to?

How will supporters and grassroots feel about TFVC without Schlegel at the helm?

Where is Lacey Hull and who is currently getting their FMA on with her?

Why are countries with a 95% COVID vaccination rate getting locked down again? (lol we know it's cuz the vaccines are fake and gay)

Who is running TFVC now? Rebecca Hardy? Christine Welborn? Anthony Fauci?

Where is Jackie Schlegel going?

What happens with Texans for Vaccine Freedom?
We have no clue what the future looks like for Texans for Vaccine Choice.
Unrelated, we stopped buying Aunt Jemima pancake syrup when she was removed from the bottle and the name was changed to "Pearl Milling Company"
That being said, Current Revolt has decided to launch our own anti-vaccine organization. We're still brainstorming a name for the organization but Slippy Toad has been named the Executive Director. He's also filled the board with only his family so he can't get booted off.