Discover more from Current Revolt
The Texas Newspaper of Record
Over 23,000 subscribers
Rep. Jolanda Jones Releases Response to Allegations
Intern named in resignation letter denies allegations.
Rep. Jolanda Jones [D-147] released a statement today disputing claims made by her staff in their resignation letter after unanimously quitting. She also says that "as a mother of black son" she denies her son was chasing booty in the alleged manner.
For those unfamiliar, you can review her staff's resignation letter, and our take, here.
Rep. Jones states that the Texas House General Investigating Committee is looking into the allegations made by her staff.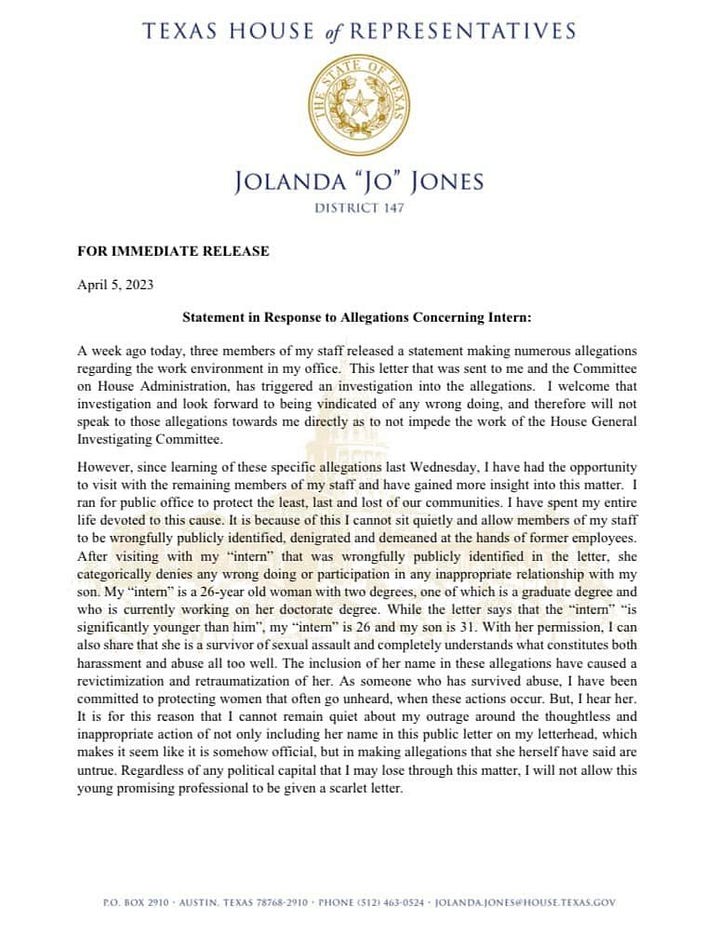 Rep. Jones also states the "intern" named in the resignation letter from her staff was wrongfully publicly identified. She goes on to point out that the silliness of the resignation letter's claim of a "significant" age difference between her son and the intern seeing as they're 31 and 26 respectfully.
Rep. Jones also says that she will stand by her son, who she makes sure you know is black and that she is the mother of, and that the intern is also denying the allegations made in her former staff's resignation letter.
We gotta admit, this is the kinda drama you get when you hire lefty millennials and lefty zoomers raised on social media who think they're above work and authority.
Good luck to the offices filled with those kinds of staffers.
Current Revolt is the premier center-right Texas Newspaper of Record. Subscribe below for Texas news.