Discover more from Current Revolt
The Texas Newspaper of Record
Over 23,000 subscribers
Three People Looking to Replace Sen. Drew Springer
Rumors of 3 politicians eyeing Springer's Senate spot.
In a surprise to many, Texas Senator Drew Springer announced this week that he was not seeking re-election.
The above story details what we know, in case you want to get up to speed.
Now the big question—which Republicans are looking at running for his seat?
Let's review the current rumored candidates:
---
Jared Patterson
State Rep. Jared Patterson is rumored to run for Springer's spot. Despite what some say about him being a "RINO," he actually has a very conservative voting record. Republican voters have criticized Patterson recently on a few key issues such as voting in favor of Paxton's impeachment, indirectly or even directly supporting Democrats to serve as committee chairs, and supporting the evildoer boogeyman Dade Phelan generally. Many have also taken issue with his Twitter drama.
We would say Patterson has a decent chance at winning, but that's in question with a certain someone rumored to be entertaining a race…
---
Congressman Pat Fallon
US Rep. Pat Fallon is rumored to have left DC to come back to Texas in preparation to run for his old Senate seat.
Fallon has been very successful during his tenure in DC, especially regarding stock trading.
When just comparing the Congressional members who traded — just 131 of the possible 535 — 26 beat the market. That equates to 20%, a much higher rate than professional money managers over time.

Here were the top 10 members of Congress by 2022 return, according to the report:
Rep. Patrick Fallon, (R-Texas): +51.6%
Rep. Debbie Schultz, (D-Fla.): +50.8%
Rep. Susie Lee, (D-Nev.): +21.4%
Rep. David Joyce (R-Ohio): +13.6%
Sen. Gary Peters (D-Mich.): +11.7%
Rep. William Keating (D-Mass.): +9.6%
Rep. Lloyd Doggett (D-Texas): +8.9%
Rep Michael Guest (R-Miss.): +8.9%
Rep. Debbie Dingell (D-Mich.): +7.1%
Rep. Mark Green (R-Tenn.): +6.5%
Fallon absolutely killed it in the stock market. However, that has come with some baggage.
Despite the questionable coincidences with his portfolio, the seat is Fallon's if he wants it. He's got the money, the track record, and the name recognition.
There's also the randos…
---
Carrie De Moor
De Moor is a random entry into the race. Sources say she's likely to secure the Paxton(s) endorsements due to previous relationships with Angela Paxton.
De Moor is an odd entry for multiple reasons, especially considering how extremely passionate she was about being pro-mask, pro-vaccine, and heavily pushing the COVID hysteria.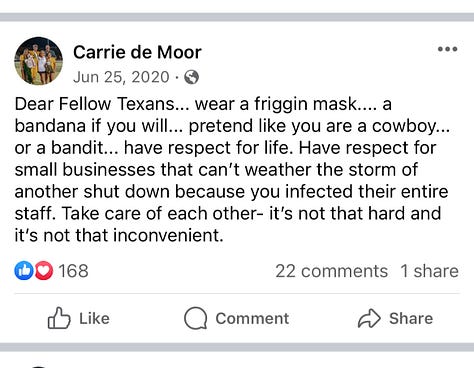 De Moor's posts show COVID fear mongering and vaccine promotion that align strongly with both Democrat and Fauci-level messaging. It started in 2020 and went all the way into 2022!
De Moor has also given regularly to the Texas College of Emergency Physicians, who believe you need a DEI Task Force in the emergency room.
Maybe the donations are superficial, but we don't anticipate voters supporting a primary candidate who advocated for COVID vaccines, masking, and lockdowns.
---
Either way, the race for SD30 is going to be lit.
Love our work? Support us by subscribing.